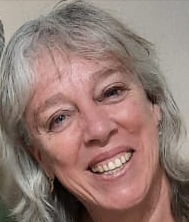 My first memories were probably of crawling up trees, scraping my knees, and running around on our dirt street, in the large old home my parents bought when they arrived in Argentina. Besides going to school all day (from 8 am to 4 pm in a bilingual school) my days were busy in the trees, visiting neighbors or reading books. When I learned to ride our big black bike, nothing was too far away.
I was born during Carnival season, February 12th, 1959 (Yes, also Lincoln's birthday), in a city called Córdoba, in a country called Argentina, the southern tip of Latin America. Mom recalled the kids around were throwing buckets and balloons of water on her way to the hospital. I came very fast; I didn't make it to the delivery room. As with most of the Saint deliveries, Dad was about 500 miles away, holding an evangelistic campaign.
My parents were Phil and Ruth Saint. Dad was a preacher who met my mother at Wheaton College, and who after many years of traveling the United States and other countries like Japan after WWII, was called into missionary work. He was 45 years old when they came to Argentina (which was considered old!) but he served the Lord 35 more years, in a language he learned with excellence, his beloved Spanish.
While my parents and older siblings were in Costa Rica studying the language in 1956, my uncle Nate (Saint) was killed along with four other fine brave men, reaching the Auca Indians (now called Waorani) in Ecuador. My aunt Rachel later went into the tribe to continue the work they had started, along with Elisabeth Elliott.
I grew up with a father gone or very busy most of the time, he traveled for months evangelizing the large land of Argentina, at the southern tip of Latin America, many miles away from the United States, with a large circus-type tent, preaching the gospel and drawing pictures on a portable blackboard (literally a "canvass board") to impact people with a message of Jesus Christ. He also founded and built a church next to our home, which continues to this day. Mom herself was very active with teaching Sunday School, driving people back and forth, visiting people… My sister Ruth Ellyn died at 17 when I was a year old of cystic fibrosis. Martha left home soon after for Bible School in Buenos Aires. She married when I was 5, and I remember that I hurriedly dropped the flowers on the way to the altar. I was the little spectator in a family that was always coming or going. In a sense, I grew up as an only child, though I was the youngest of six. My twin brothers were 9, David 12, and Martha 15 years older. I loved books, as I do today!
When I was 8, my family took the only vacation I ever had…and it ended up being the last one! We went camping to a place in the mountains, next to large peaceful lake…where Dad discovered the property that would become Valle del Lago, Lake Valley. Every summer since then, until I started working at a bank when I was 21, I spent there, over 4 hours away from the city of Cordoba. I cannot imagine how Mom managed those first years living in a tent with barely any commodities…but I enjoyed roaming the mountains, I was quite a loner, and never got bored. (My children today have a different story!) In fact, Dad got me a horse one summer, and I would ride it bareback, slipping a rope through the horse's mouth and off I would go! Poor Thunder didn't last too long, he needed too much care.
Mom and Dad traveled often to the States, but I was left behind with different Christian families. (We did travel as a family to the States when I was 1 year old). When I finished high school, Mom and Dad invited me to itinerate with them, which I did for about 6 months. I was just 18, in 1977. Was that a new world for me! For though I speak English "like a native" I had never been to the States as a grown up. Wendy's, Dairy Queens (Dad's favorite), Christian bookstores! The highways! We traveled very much, and I also learned to drive with power steering…how I enjoyed the beauty of the United States. I knew how to play the guitar a little, so Dad would have me sing some songs, or share a short testimony. I was quite shy, though I enjoyed people. I discovered used book stores! I also embroidered a lot on the hours of traveling in a loaned van. I met so many fantastic people then…we visited 700 Club, PTL, Dad taped TV programs, we visited Ruth Graham in her home in North Carolina (Billy had left unexpectedly that morning)…it was so interesting. We met David Wilkerson at the end of that trip. In fact, he paid for our return ticket home. I met some relatives for the first time ever then, I met my aunt Rachel Saint for about an hour as she passed by a town where we were. We returned home to Córdoba, a large industrial educational city in the middle of the country: the capital is Buenos Aires, about 500 miles east, on the Atlantic coast. Córdoba is a lovely province, mountainous, rugged and colorful.
My brothers started marrying… Jim married Lynn, an American girl who came for a year's work in Argentina after reading Dad's book…they went to the States to live. Joe, the other twin, married Susie, an Argentine, soon after, (both twins currently living in the States in the Portland, Oregon area) and David married Edith, another Argentine girl. David and his family live in Cordoba. David's wife Edith died last year (2007). David continues in the pastorate and teaching ministry alongside with his son Billy and daughter in law, Inés, and grandbaby, Joan. Martha married a fellow student of Bible Institute, Samuel Berberian. After several years in different countries, they moved permanently to Guatemala, where they have served over 30 years, teaching, training, and serving as professors and leaders in the educational world.
When I returned home, I had lost a schooling year, so I took a secretarial course, typing, bookkeeping, and 4th year French for the remaining months. The following year I started studying interior decorating, and commercial arts, and taught at an English school.
Then the ministry of Morris Cerullo came visiting Córdoba to offer scholarships to Argentines. I translated for the people involved, and after several days, when they were leaving, they told me, "You ought to go to the States. we'll give you the scholarship." I said I wasn't sure, I hadn't thought of returning. But they left me the papers, and it got me thinking….so, while Mom and Dad traveled once more to the States, I went with them, but flew on to San Diego, CA, 1979, where I studied for 6 months, working as a simultaneous translator for the many other Latins there, teaching English and attending classes. I met many teachers then… Peter Marshall, Ern Baxter, Alex Ness, the Rambo family, Pat Robertson, Derek Prince… little did I imagine the training would come in useful later. I never even began to think of myself in the ministry. I had only taught Sunday School for many years, starting when I was about 14. But being in the ministry? It is well known that ministers' children are often reluctant to continue the same, as they know too well the risks and challenges of the ministry.
After the six months we returned home. I again taught at the same English school, but I applied for an ad in the newspaper. I was hired to work at the Chase Manhattan bank, so I quit my English job. I did continue to study commercial arts and interior decorating, as my banking schedule started at 6:30 in the morning (I opened the bank with a policeman by my side and received the first banking information) to 3 pm.
I enjoyed going to church, and loved my Christian friends, but at one moment a young Peruvian student decided I was "the one" for him. Humberto had become a Christian two years before with the Youth for the Mission ministry in the World Soccer Cup held in Argentina in 1978, with a full military repression on the way. (30,000 civilians were killed during the many years of dictatorship, but Mom and Dad seemed at peace about all this, that I never felt anything different, in spite of the difficult times.) So…I decided he was also "the one" for me, and 2 ½ years later we got married. I was 23, Humberto was 25. He had come to Argentina leaving a complicated home situation behind when he was 16, and had been a student many years, studying engineering. He is always so grateful he met the Lord and became a Christian. So from being quite a penniless foreigner, he married into a traditionally Christian missionary family, quite a mix I'd say! (He does have a mix of Spanish and Inca blood!) Today he is a naturalized Argentine.
When our first baby was born in 1984, I resigned from my banking job, which I had thoroughly enjoyed. I did continue to teach English at private institutes to add to our income. As Humberto continued studying, he also worked full time, so things were quite busy then. I lost my second child at birth two years later, but then Nathalie was born in 1988, and Sebastian in 1991. Our home was full of joy!
At the time of Nathalie's birth, the church we attended was going through a crisis, and Dad became the temporary pastor, asking Humberto to become co-pastor…and soon after, Humberto became a full fledged pastor, though he continued to work secularly (he had opened a business with his brother, who had come from Peru and also become a Christian). After about 2 years of this, Humberto working 10 or 12 hours, and then pastoring, we reached a turning point. What to do?? The church could not fully support us, but as I continued working teaching, we thought we could manage. So, we decided to go full time into the ministry, something that is not too common here. Mom and Dad helped us financially with a small monthly support, and so we continued… getting more and more involved in the ministry. Humberto left the business he started with his brother, which today is a very prosperous one…Decisions like these are not easy, especially in the mission field. I remember a pastor once spoke that the Lord needed more pastors than engineers…which spoke to my heart--so, here we are!
I began to speak and teach, and I learned how to organize a church, retreats, Bible studies…(I had organized and shopped for Lake Valley for years…) plan events…and so I got more and more involved in the ministry, something I had never expected to do. If you hear pastor's kids say they don't want to be in the ministry, they are right! When you live smack in the middle of "the ministry" you get to know the trials, the hardships, the pain… Humberto loved the Lord, but he had not had formal training, plus he had a background of a dysfunctional home…so, he started taking all the Bible courses he could! Today we belong to the Assemblies of God, and both Humberto and I are ordained today (in the highest ordination) with this organization.
Mom and Dad celebrated their 50th anniversary in 1991. Dad had a tractor accident at Lake Valley the day of my birthday in 1993. He was brought to Cordoba and buried, as he had always wished, in his beloved mission field. Mom returned to Lake Valley to finish the summer season. Mom left us 7 years later, in 1999, after many years of surgeries for cancer of the bladder. Both had turned 80 when they died. Both had desired to be buried in the land they adopted.
When Dad died, I wrote an article for the only national Christian newspaper (El Puente, "The Bridge") about his life, and that sparked my writing; since then I have been regularly writing for this newspaper, mostly in the women's section. I had always loved books, but I had never really written much beyond letters. With Humberto we published a book on marriage with the Spanish Zondervan (Editorial Vida) and three more books followed since, plus Bible studies and different materials, a coloring book for children.
The church which we began to pastor was on a side street on a dirt road, with capacity for about 80 people, with neighbors getting upset with the church noises and such, so we began to pray about moving. The Lord provided a run down house on an avenue about 15 blocks away, in an area full of abandoned factories. Still, it was an expensive area. We repaired the house which had a place for about 100 people at the back, but we would eye the empty lot next door. The men would gather and pray there…and yes, two years later we bought the empty lot. Now, 7 years later, we have a building with capacity for 500 people. We are pastoring about 300 people today. Then, the abandoned factories were demolished and several buildings were made…a Holiday Inn, a giant supermarket, a mall, a covered stadium…the whole area soared in price, but we were right there, in the middle of it all! Not only that, but we moved in 2004 to a home four blocks behind the church, so convenient for our comings and goings.
Four years ago, a university by extension was brought to Cordoba (with a degree from a University in the States), with a degree in journalism. Humberto and I looked at each other and wondered, "Why not?" So we both enrolled and studied for two years, graduating in 2002. We also started a family magazine which we publish in Cordoba, called Focus, with 3000 issues at this point. We published 5 issues.
After Dad died, Mom continued with Saint Ministries, and my dear sister-in-law, Lynn Saint, from Gresham Oregon, offered to take over the mission office in the States. When Mom was gone, Humberto and I wondered what would happen to Saint Ministries…we decided we would not itinerate in the States, for our work here was intense and closely related to people here. But Saint Ministries continues in a smaller scale. With Lynn "holding the fort" in the States, we were able to carry on. Four years ago I decided to stop teaching English, even though it was only part time, as we have grown in activities and projects. I do take occasional translation jobs which I enjoy and add to our income!
Then at the end of 2006, Lynn met with some wonderful friends, Jorge Parrott and their missionary ministry called CMM, which we joined in January 2007. We have enjoyed being part of our CMM family since then, becoming Jiménez Saint Ministries.
We continue to study, as our work takes us to teach many congregations in our city and in other provinces. We both are finishing a degree in family counseling.
Today we can only look back with gratitude…not that things were easy, because they weren't and never will be…but we have been able to serve the Lord in so many ways in spite of political and economic problems in the country, in spite of cultural limitations…
Our oldest boy Ariel is now 23, a very tall young man, who can do most anything! He is finishing his degree in Audiovisual Communication at the university, and can play the bass guitar, the organ, the drums, and the guitar. Knowing how I was raised, I have especially worked hard on balancing the demands on the pastoral/ministerial family…and I am delighted to see that our children love the Lord, and are active in church. Ari helps up with the magazine, and so many other things that add to our work. He is more on the quiet side, he has what I call, "deep waters", but with a keen sense of humor, and great for working with young people as a speaker and organizer of events. He wrote a book which was published last year, oriented to Christian young people, encouraging them to "follow their dreams". He is one of the youth leaders, an excellent worship leader, but at the present his priority is finishing his thesis this year. He is thinking of producing Christian cartoons such as Veggie Tales in Spanish.
Nathalie is 19, she's tall, shy, very creative artistically, and loves the youth group activities. Her special love is…her cat, Fiona. She finished high school last year. She's gifted with most any craft project, she's wanting to learn how to sew. She sings in the church worship group and helps out with the pre-ad group. She is also studying fashion design.
Sebastian is 16, growing tall, very quick, very fast, and a great helper. He loves to help, and he loves saving money. He's learning how to plan the guitar, and loves video games… . He loves soccer and is an excellent "goalie". He has begun to play the guitar regularly in the worship team on Sundays. He's also taking tennis lessons and computer lessons as he goes to fifth year high school (of six).
Humberto had been active in the Pastoral Council of Cordoba, and is its Secretary, so it means a greater responsibility towards the leadership of Cordoba, along with 6 other pastors. As our church has grown, we are now working with leaders, Humberto with the men, I with the ladies on a weekly basis, and these leaders have their groups also. We also team teach to couples in the city, to young people, and we are with our weekly radio program together. Two years ago we brought the Latin team of Focus on the Family to Cordoba. We are training leaders for Focus on the Family concerning an educational material called "Sin Excusas" (No Excuses). I am also helping out presently with Missionary Ventures, in distributing funds to their several projects here in Cordoba, food programs and teaching activities.
Humberto looks back to see how he was a young foreign student, and how the Lord took him and raised him to the leadership in Cordoba. I can look back at myself, a bookworm, a very shy person…not an easy situation being raised in a different culture, being a MK, a PK, away from family ties…but also being involved in the leadership along with my husband…but we can say, The Lord is Good. We have both moved on and we have been blessed. And we have so much ahead of us, challenges of many kinds…we count ourselves privileged.