My first memories were probably of crawling up trees, scraping my knees, and running around onour dirt street, in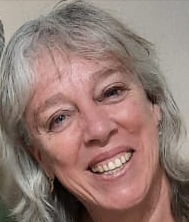 the large old home my parents bought when they arrived in Argentina.
My parents were Phil and Ruth Saint. Dad was a preacher who met my mother at Wheaton College, and who after many years of traveling the United States and other countries like Japan after WWII, Cuba, the Caribbean, was called into missionary work. He was 45 years old when they came to Argentina (which was then considered old!) but he served the Lord 35 more years in Argentina, in a language he learned with excellence, his beloved Spanish.
While my parents and older siblings were in Costa Rica studying the language in 1956, my uncle Nate (Saint) was killed along with four other fine brave men, reaching the Auca Indians (now called Waorani) in Ecuador. My aunt Rachel later went into the tribe to continue the work they had started, along with Elisabeth Elliott. My cousin Steve Saint continues this missionary work in Ecuador, and is a writer and entrepreneur.
My parents arrived in Argentina, the southern tip of Latin America, in 1957: the capital is Buenos Aires on the Atlantic coast, and moved to the province of Córdoba, mountainous, rugged and in colorful.
I was born during Carnival season, February 12th, 1959 (Yes, also Lincoln's birthday), in the city of Córdoba. As with most of the Saint deliveries, Dad was about 500 miles away, holding an evangelistic campaign.
I grew up with a father gone or very busy most of the time, he traveled for months evangelizing the large land of Argentina, many miles away from the United States, with a large circus-type tent, preaching the gospel and drawing pictures on a portable blackboard easel (literally a "canvas board") to impact people with the message of Jesus Christ. He also founded and built a church next to our home then, which continues to this day.
In 1967, Dad discovered the property that would become Valle del Lago, (Lake Valley), a center for conventions and vacations for Christians in the mountains of Córdoba, which he built over several years.
I enjoyed going to church, and loved my Christian friends, but at one moment a young Peruvian student decided I was "the one" for him. Humberto had become a Christian two years before with the Youth for the Mission ministry in the World Soccer Cup held in Argentina in 1978, in the middle of a military government.
I was 23, Humberto was 25 when we married in 1982. He had come to Argentina when he was 16, to study engineering. He is always so grateful he met the Lord and became a Christian, and his life made a great change of direction.
Eventually Humberto and I were called full time into the ministry, both in the pastorate and missionary work, ministering by teaching, writing, and actively participating in the Pastoral Council of Córdoba,where we work alongside with 200 pastors of our city, as also being active in the national network of pastors.
Dad had a tractor accident at Lake Valley the day of my birthday in 1993 and died. Mom left us 7 years later, in 1999. Both had desired to be buried in the land they adopted, where they are today.
Our oldest son Ariel is now 38; he finished his degree in Audiovisual Communication at the university, today he works as a media missionary, preparing and editing material mostly for the Internet. Nathalie is 34, works as church secretary and media designer, as also an event planner. Sebastian is 31, has a degree in business administration, worship leader and youth pastor.
Today we can only look back with gratitude…not that things were easy, (because they weren't) and never will be…but we have been able to serve the Lord in so many ways in spite of political and economic problems in the country, in spite of cultural limitations… but we can say, The Lord is Good. We have been blessed. And we have so much ahead of us, challenges of many kinds…we count ourselves privileged.
Today we serve as missionaries under Globe International, of Pensacola, Florida, under the presidency of Douglas Gehman.
For online giving go to: www.globeintl.org/missionaries/Jimenez-Saint