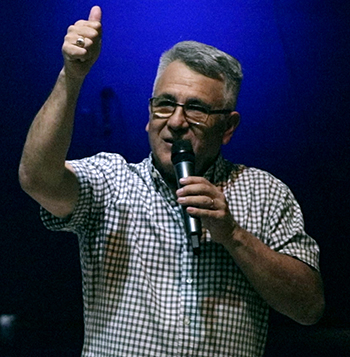 I was born in the city of Arequipa, Perú, in 1957, where I studied and also went to military high school. At the age of 16 I decided to travel to Argentina to pursue university studies. And I did, I studied 4 years to become an electrical technician, and 6 years of electrical engineering at the Technical University. In the year 1978, during the World Soccer Championship in this country, a group of foreigners (Youth with a Mission) was in the city of Córdoba, where I lived, sharing the gospel of Jesus. Through this group I became a Christian and accepted the Lord in a local church, where a visiting pastor ministered to me, even though at first I had been reluctant to go forward. I continued to be discipled through the YWAM group, and grew in the Word of God; in those days I read the Bible many hours a day, and grew stronger as the days went by. Three months later, being part of a church, I worked as an usher at an evangelistic campaign, where the Baptist evangelist Daniel Altare preached. At that time, I met my future wife, Evelyn Saint, who was singing in the choir of 100 voices.
When I was 25, and she 23, we were married, in 1982, always considering that our lives were to serve the Lord. Today we have three children, Ariel, 38, with a university degree in Audiovisual Communication, is a web producer and designer, a youtuber and media missionary; Nathalie, 34, is a talented designer, works as church administrator and event planner with our activities, and Sebastian, 31, has a degree in Business Administration and is a youth pastor and worship leader.
I am pastoring a congregation of 200 people, now on a main avenue, instead of on a side dirt street where the church originally was, as the Lord allowed us to buy a larger property on an avenue and built a place with capacity for 500: I am an ordained minister in the Assemblies of God, as also my wife Evelyn.
Our 3 children are active today in the ministry from their different gifts, for which we are so grateful to the Lord. With my wife we completed a degree in journalism at a Christian University based in Buenos Aires. For many years I helped administrate and run Lake Valley, the Conference Center my father-in-law founded. For years my wife and I had a live radio weekly program on the family in a local Christian FM radio.
I have been to many churches in the city of Cordoba and other places giving seminars to young people, couples, and families; with my wife we have written two books, one called "Contigo Pan y Cebolla" (on marriage), published by Editorial Vida (Spanish Zondervan in Miami), and "Qué Mojada está el agua" by Editorial Logos, in Argentina. We have published a series of articles and materials that are being used in different parts of our province. We have prepared over 30 teaching materials that are available for free in our website: ideascruzadas.com.ar. I preach frequently in local churches, and also in the AG Bible Institute; presently I am the Secretary of the Pastoral Council of the city of Córdoba, and we work serving our city with around 250 pastors, preparing events, prolife marches, seminars, and others.
We serve under Globe International, based in Pensacola, Florida.
For more information, check out our websites and Facebook pages.