Dearest friends,
As we travel in the States for this short visit, I wanted to share some last things with you, as I drop this letter at Miami at our arrival. We finished the year 2005 so very blessed, with growth, with challenges…(like Kettering wrote: Problems are the price of progress. Don't bring me anything byt trouble…good news weakens me.)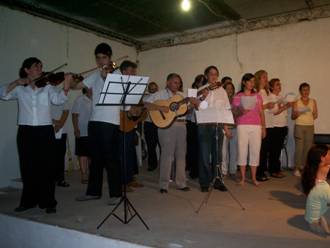 At the end of December we were able to prepare a Christmas choir with 20 voices from church for evangelistic purposes…with three violins and a clarinet (no small feat in this part of the world!)…as you see in the photo we visited a small pueblo (town) of pop. 600 to have what is called a civic presentation, with the backing of the local authorities…there was a "live" manger (animals and all) of the local children and the choir sang to about 300 people (half the town!)…it was of great impact…city people taking time to sing, yes, at 11 pm on a Friday night, to a group of country people- returning around 1:30 am with a bus with no lights (with Humberto we drove in our car in front to guide the bus, and another car drove behind the bus during the hour drive…all part of the "challenge"!) But the reports of the blessing was great!!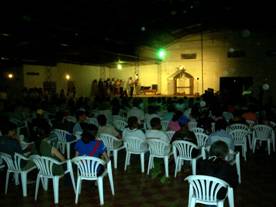 We also had our Christmas celebration at church, opening our doors to the community to invite friends and relatives to present Christmas music, a children's play, special numbers and such…we were delighted with the visit of over 30 new people.
A group of ladies from church who are cosmetologists, new Christians! donated their services for several days in exchange for a toy or a fruitcake (a very traditional food here for Christmas) to take to Pinky and Rober in a small town called Guiñazú where they feed 60 children in poverty condition 4 days a week, with the generous help of Missionary Ventures of Orlando…so, 60 presents and 60 fruitcakes were wrapped for Christmas week and taken in a truck to bless that outreach.
If you would like to contribute for our trip, please send a check to our missions office indicating its purpose. We would like to be able to buy (and bring home with us to Argentina as the provisions allow).
A projector U$ 1,400 (for projecting movies, power points, teachings, songs, etc.
Sound mixer with 24 channels U$ 1,000
Used Saxophone
Another clarinet (to give classes for students)
2 Wireless Shure mikes U$ 400
Video camera for Ari U$ 300.
Thank you for blessing us with your support, your care and your prayers! We will write again as we return to Argentina.
All our love, HAPPY NEW YEAR!!
Humberto and Evelyn Jiménez-Saint
Email: jimenezsaint@arnet.com.ar
If necessary, you may leave a message until Jan. 9th at Missionary Ventures: 407-859-7322