Dearest friends,
Now back in our beloved country, back to our rugged mountains and lakes and rivers, we can say, God is good! After a whirlwind trip to the state of Florida, visiting two churches and participating at the Missionary Ventures Conference in Orlando, being with people, enjoying great food and hospitality! We came back loaded with blessings and projects for this year 2006. (We have a large sign in front on the pulpit at church that says "We're going for more!"). And truly, it has been such a great way to start the year, meeting such fantastic and dedicated missionaries and people from all parts of the world, sharing their testimonies, feeling that there is so much going on in all the world—and much more is ahead if missions are supported more than ever…because as we see it, the difference will come through the missions work in all the world…and of course, the United States is a great part of the challenge!!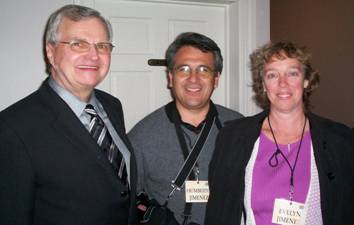 Both Humberto and I have met such a large assortment of people and leaders over the years, but we were most impressed with the leadership and the commitment and genuine caring of all the people we met at this Conference, starting from our friends we met in Córdoba, Paul and Cheryl Bendele, who now moved to the States.
At the closing of the conference we heard a marvelous guest speaker, Bruce Olson, missionary for many years in Colombia to the motilón tribe, and a writer and speaker (see photo at right). His testimony not only shared his experience, but he gave clear directives concerning mission work…what a privilege to hear him speak…we also met with Steve Strang, of Charisma magazine, who was there that night with Bruce Olson…we met with Nancy Whitmire, who works in the Wycliffe office, toured us through the different ministries Wycliffe has and generously opened her home to us two nights (we had a banquet reception there!)…we were with pastors Donna and Billy Hires who rescued us at midnight on New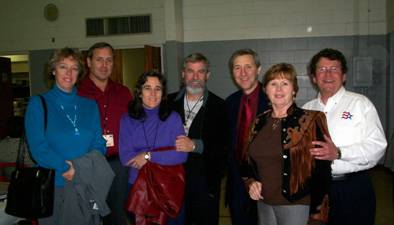 Year's when we got lost getting to their home in Tampa straight after our arrival in Miami…everything turned out OK. (Did you know that the origin of "OK" comes from when the soldiers came back to the camp with no dead, and they wrote "zero killed" on the board, and it remained OK til today?) Humberto shared in their congregation Sunday morning…(thank you for taking us shopping on Monday!)…then we stayed with Bill and Mary Hand in Orlando, who graciously hosted us for five nights…(what a great bacon and eggs breakfast we got that first morning there!!)…
In the photo above I am with great friends at the mission's conference. The Jays and the right, the Bendeles, Rev. Meier, and Jim Loker, behind me.
Humberto preached at a Latin church in Kissimmee, with Colombian pastors… (Humberto's sermon went on live on an Internet FM, so our Ari could hear us from Córdoba!)…we had a short visit with my dear Aunt Evy and Uncle Barney, son Marvin and wife Gertrude, friends of my parents from years ago, in their summer place in Boca Raton…then to top the trip we met with Esteban Fernández, head of the Vida publishers in Miami (Spanish Zondervan) and had a wonderful business lunch together (Cuban food, of course!). We shared the project of inviting him and a team of international leaders (called "Latinus") to Córdoba sometime this year, to challenge and bless the leadership of our country.
And back to church, we were so warmly received by our congregation- in spite of extremely hot weather- with only ceiling fans to help out! (for a minute, but just a minute, we wished we had the air conditioning of the States!). We are so encouraged to move ahead in our activities, organizing retreats, evangelistic events…and enjoying our three children at home again, teaching Bible School…
We want to thank each and every one of you for being part of our lives, for touching us through your gifts, your prayers, your cards…I have always expressed this: Without you, what we do would not be possible. You make it possible!
And again, a big thanks to my dear sister-in-law and great missions secretary—Lynn, who has such a busy life herself serving the Lord and her family and takes time to do our office work- as you know every gift to Saint Ministries International will receive an income tax receipt.
In Him,
Evelyn Saint-Jiménez
PS Prayer requests ahead for 2006
We continue to pray for U$ 20,000 to buy 2 acres near the city of Cordoba to be used for spiritual purposes, for pastoral rest, retreats, children's camps
U$ 1,000 to build an office in our home
U$ 1,200 to buy a projector for several uses, teaching, films, etc.