Dearest friends,
I have been organizing my desk so that more of you may receive our newsletter by email. (This makes is simpler from this part of the world!) Computers can be such a blessing, and mine is proof of this! And email is such a great communicator that shortens enormous distances…in seconds.
It hardly seems real that Humberto and I spent two weeks in the States…things have moved on so quickly, but here we are, back home, busy and happy again…I am catching up on some of the great Christian books I brought with me, and some new music also…
Our kids have started school, Ari his fourth and last year of Communications in college, Nathalie her 5th year high school, Sebastian is in 3rd year. Ari also is one of the youth leaders at church, Nathalie participates in the worship group, and Sebastian is active in his adolescent group, and also helps out with a Sunday School class on Sunday morning as a helper. This year we have seven new teachers training with the Child Evangelism courses, which is wonderful. As Christians we need to be continuously challenged to grow and prepare ourselves.
Humberto and I have started our second year studying to be family counselors through an Internet Bible Institute here, a three year course. So we also have our share of homework and activities to do…but the need to be constantly training is part of what we live here in our work.
We are both teaching ten weeks at the local Bible Institute (called Instituto Biblico Mediterraneo): Humberto teaches Christian Home I (the single life and dating), and I teach Christian Home II (the marriage stage) which is fun and interesting with our students. We drive about 45 minutes away once a week for these hours, and we also have had the chapel service on another occasion.
We are often invited to teach on marriage, on raising children, on a variety of subjects, like the national marriage convention for those who are planting national churches in Argentina in the AG organization, called the VEN. This week we teach at a dinner for couples on the subject on the balance of marriage, work and children, a timely subject for these busy times!
As you see in the poster I have pasted below, this is the third year Humberto is actively involved in organizing the annual Fiesta del Espiritu, in the stadium across our church building, where about 8,000 people gather. This year will be special because we will be celebrating the 100th year of the Pentecostal movement that started in Azusa street. Humberto and I have been invited to give a workshop on marriage and family, as you can read below with whatever Spanish you have!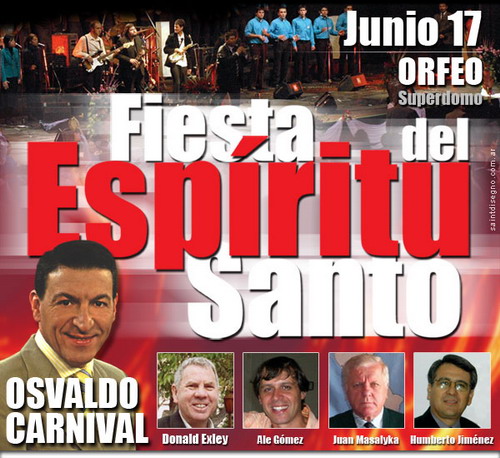 So...
I wanted to share the good news that we will be building an extra room on our second floor, so we will have an extra bedroom and, to my delight, an office!! It will be so useful, as at the present, my office is a crowded corner, and I still have books packed in storage!
If you should wish to contribute to our work here, every gift to Saint Ministries International will receive an income tax receipt.
We are blessed with wonderful friends and partners like you in the States!
In Him,
Evelyn Saint Jimenez