Dearest friends,
Here I am, writing in the midst of the World Soccer Championship held in Germany…and so far Argentina is doing quite well!! The whole country practically stops during the these games. So, you can imagine! We did buy a projector for church, so we watched the first game Argentina played, having the kids invite their friends to watch it in church on a large screen—about 15 new kids came for the first time! The ladies decorated cakes in light blue and white, with the colors of our flag, and we served drinks and coffee…it was great that Argentina won that first game! And since then, Argentina has tied with Holland…
The projector has been such a blessing. We use it each Sunday with the words of the worship songs, and we also can show the different activities we have had: children's ministry, ladies' ministry, specials, etc. Our son Ari is into all this, and he really can work up some lovely things. We also had an evangelistic program prepared here in Argentina specifically for the World Cup, with magazines prepared for young people, and a film with testimonies of Christian athletes. Our young people had lists of ten people each they were praying for, and then after six weeks of prayer and preparation, we had a special youth night with sketches, a "soap opera" they made themselves to project, and a local Christian rock band have a special performance.

We also had our annual Fiesta del Espiritu Santo (Holy Spirit Celebration) held in the stadium across our church building, the Orfeo, with Humberto being one of the main organizers of the event. We had different workshops (Humberto and I taught on marriage) and then we had a main celebration starting at 3 pm with a special preacher, a choir, different presentations, then a youth night starting 8 pm until about 1 am. One of the popular Christian rock groups was invited, called Kyosko, so I got to enjoy the "backstage" moment, taking several of our adolescents who are big fans of theirs to get autographs. We also had our annual local band contest, to get local amateur groups to participate that night, before the "big" group plays. We have enjoyed seeing so many local groups work hard to improve their music abilities.
One of our "blessing" projects last month was to take an evangelistic event to a small town called Guiñazu, a very poor area, where Pinky and Rober (whom we met through Missionary Ventures and have since become members of our church) have a food program for about 50 children. So a group of fifteen teenagers prepared a program for the children, with clowns, a Bible class, games, and hot chocolate, and four hairdressers and a podiatrist from our congregation went to cut hair and fix feet for free! (I think we invented the outdoor hair salon!!). About 40 women and children got haircuts, and about 6 women got their feet done. (I do believe the women enjoyed being pampered!) Then we shared tea together, and shared the love of Jesus. I always wonder who gets blessed most, the ones of receive or those who give! (One of the hairdressers is a brand new Christian, and it was her first "outing" in missions—was she blessed!!)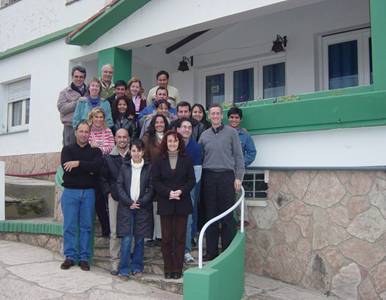 With Humberto we were invited by our organization to teach at an annual retreat for church planters in Argentina, (they are called "national missionaries"), that came from different parts of the country for two days, in a city near Cordoba. We team taught on family and finances, and spent time counseling the couples. We are being asked to be mentoring this group of about 30 families, so we are helping in on this project. There we are in the photo top left with some of them!
As always, there is sooooo much to share!! So many things happening all the time. On the personal side, I wanted to tell you that we built an extra room, so that our son Sebastian, 14, now has is own bedroom, and I will be gaining an office. I still have to fill the walls with shelves and such, but we are almost there! We are also building a sort of loft on the roof, so we can have room to receive up to 20/ 30 people, as our present dining room barely fits the five of us! There the young people and friends will be able to eat together, play ping pong, watch videos, get together, and of course, we are including a grill for our great Argentina barbecues! So while has been an extra expense, we are delighted to have such a useful addition to our home! So…we have been having the builders around for over 6 weeks now, but we are now on the final stretch, alleluia, the Lord is good!
As you know, every gift to Saint Ministries is tax deductible.
Special request:
Put in ceramic floor in our church building (it is presently painted): Cost U$ 1,500.
We thank the Lord for each of you, and we enjoy hearing from you!
May the Lord richly bless you…
Evelyn Saint Jimenez
PS…and let's see who wins the Soccer Championship July 9th!