Dearest friends,
How many times have we tried to explain things that happen to us? When what the Lord really wants of us is to trust Him, believe His promises and keep going forward! Yes, our rational mind loves explanations, but does not bring the healing and significance that the Lord intends for us. And now, as we are entering spring in this part of the planet, who can explain the mystery and beauty of the plants awakening to bloom and cheer nature? Oh, but how we can enjoy them!
So is the fact that I am enjoying working at my (new desk) in our (new) office… with the smell of fresh paint still! What's great is that Humberto is also working on the other desk in the office, and we don't have to be crowded for elbow room! These past months have been particularly complicated with all the repair work and building we have been doing on our home, at the same time we live in it! But so enjoyable to have progress made… (No complaints allowed!)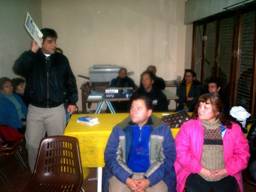 We had our second class for the Auxano Institute, as I wrote before, (which Humberto and I founded for Christian family training): in the first class we had 33 students! Our second class had 25. We taught for three hours on finances, and then on communication in marriage. Our project is to teach one subject a month during the year: we are giving certificates to our students for each workshop they attend. Our idea, as we mentioned previously, is to multiply our teaching into many more personas, as the students go back to their churches to share the classes.
Here you can see in the photo a special project we have as a congregation: we are participating in a program to alphabetize adults who have not finished primary school along with the City Hall called Yes I Can! Normally these classes (sponsorized by a government program) are only held in official places, but… we have an extension in our church building as a special concession, (the only situation like this in the city, isn't God good?). And the teachers themselves are our church members: there are 12 students, 6 who are mute, so a woman from church who teaches the sign language translates for them. It functions three afternoons a week and 3 of them are close to getting their primary degree. It is a testimony for this part of the city!
Ari, our son, 22, returned from the province of Mendoza, attending a Leader's Conference for Youth Leaders, where several international speakers were trained on leadership, a great opportunity for the several hundred kids that will be attending. He is also promoting the book (on fulfilling the dreams God has for each of us) he published some months ago, especially oriented to the young people. (Ha, now when we teach at different places, not only are we the authors of "such and such" but the "parents" of such and such!).
We also traveled some days ago to a small city in Cordoba, called Arroyito ("little stream") for Humberto to speak at a closing meeting at a Christian Book Fair organized by the local churches, with a good number of people present: there were several stands of Bibles (September is the month of the Bible here) and Christian literature. What was interesting is that when my maiden name was brought up, several of the older folks there told me they had become Christians in a campaign my Dad had had in that town around 1960, and because of that, several churches were founded in that city. They said that today 10% of the population are Christians there.
Nathalie, 17, is doing well in school: she loves the be with the younger girls to help them with crafts and such in our church activities. Sebastian, 14, is now taking tennis lessons, he is quite a physical guy with endless stamina! He is enjoying having a room to himself, and he normally invites a couple of kids from his adolescent group to spend the night on Saturdays after their church activity. The Lord has blessed us with a lovely young couple who is working with this group. As pastors, we are delighted to add leaders and "helping hands" to our work teams. I am organizing our ladies' retreat, with activities, sketches, humor, teaching and so forth. 50 ladies are already signed up to go. And you know the good news? I go along to the retreat and enjoy watching my lady leaders do all the work! I am so thankful that there has been growth and maturity in their lives…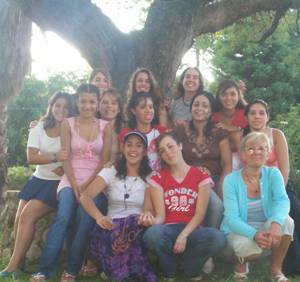 You can see Nathalie in the photo below, bottom middle with some of the other girls and a leader.
During November we will be teaching for four Monday evenings at the First Baptist Church in Cordoba, which has a seminar for leaders, in which we will teach again on counseling. All of you who have been reading our newsletters know how firmly Humberto and I believe in educating the Christian community… we will also be traveling to the province of San Juan to a national youth conference of several thousand young people to teach on home and marriage. It is such a blessing to be able to speak out in prevention on these subjects.
Among our busy days, we do not cease to be so grateful for each and every one of our friends in the States. We are privileged to receive gifts from the States that enable us to do so much more! As you know, your gift will receive a tax-deductible receipt. There is a lot to do and we are blessed to be able to be part of what the Lord is doing.
May you have a wonderful day!
Evelyn (Saint Jiménez)