Dearest friends,
We are ending another year, full of blessings, full of projects and responsibilities, and enjoying every minute of it! Of course, like we say in this part of the world, Not all that shines is gold, but we can say that the Lord has walked with us each moment, each day, each month. And we open our hearts and spirits for what may be ahead for each of us… as I also pray the same for you all in the States!
Humberto and I were invited to a youth conference in the province of San Juan, 8 hours away, where Humberto was the main speaker for about 500 young people, and then he and I both shared an afternoon talk with about 100 couples, teaching, of course, on marriage. But on the opening night of this congress, the local pastor presented a power point, with a special segment dedicated to missions and honoring my folks, Phil and Ruth Saint, showing photos, and sharing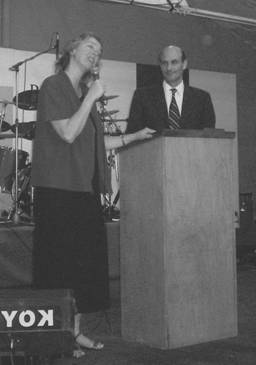 their story to the audience. Then he called me to receive a small memorial plaque on behalf of the Saint family (see photo of myself with pastor). Then the young pastor told the story about the day that my older sister, Ruth Ellyn, died, February 1960, when Dad was holding a campaign here in my city of Córdoba. He shared that in spite that the funeral service had been held that morning, Dad had preached that evening, resulting in several conversions. The pastor, Jose Luis, shared that one of those converts that night was a teenager called Nelly… who later became… his mother. He said that his parents had six children, of which four are in the ministry today… (I knew this family from Cordoba, of course, and I knew this story, but it was such an unexpected nostalgic and emotional moment for Humberto and myself!).
We also had the fourth annual retreat for pastors and leaders in a nearby city, Carlos Paz, where two wonderful couples, and dear friends also, the Carsons from England and the Bennetts from Memphis, TN, who came and taught for two days, blessing about 150 people with a full "scholarship" to receive great teaching and ministry. I had my usual privilege of translating several of the sessions, and fellowshipping with them personally. Then on Sunday pastor Colin Carson came and spoke at our morning service, with a great message of encouragement and vision: ministering in the Spirit to many people that morning. Then of course, a great Argentine barbecue was next on our agenda that noon!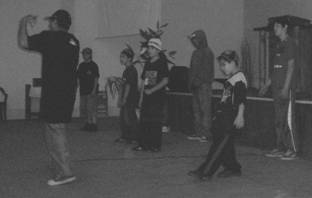 On another Sunday we presented our first choreography of "hip hop" with the idea of reaching young people in the streets. A young man, a fantastic soul winner from another congregation, has been training our adolescents, and you can see the results below! They will be presenting this choreography in different parts of the city, with a strong Christian message for the young people. Our Sebastian, 14, is on the right.
What's ahead these days? Teaching four weeks at a Baptist Leadership Seminar in Cordoba; Humberto as Presbyter of our organization is also in charge of ministering to the 70 pastors in our city, and also as Secretary of the Pastoral Council in Córdoba, in which events and activities are being carried out for the city. One project this year is that the Pastoral Council is visiting a local church in different areas of our city one Friday a month, and that local church in turn invites the surrounding churches to join in for prayer. This is bringing blessings and unity (much needed!) to our city.
Another blessing of unity: Humberto was called to preside the first meeting between the five Christian schools in our city, where representatives of each school are aiming at working together to strengthen the education through these schools, give training and support for the teachers and programs, and to also to get the provincial government to approve a special day for Christian schools, on September 15th of each year. A great beginning!
As for myself, I'm enjoying the lovely spring days—though our city needs a good amount of rain! The kids are finishing their classes, Ari, 22, is finishing his career at the university and checking around for future projects. Something exciting has happened to him: as you know, he wrote a book for young people on the importance of dreaming big dreams. A friend of ours, who is impacting our country enormously with youth events called Jesus Warriors, gathering tens of thousands of young people in Buenos Aires and in other parts of the country, wrote the prologue to Ari's book and has invited him to share ten minutes in a huge event for about 20,000 young people.
Our Family Institute web page is finally open to look into, though we still have much to add to the web site. Check into www.Auxano.com.ar! (Sorry, our son found out it was damaged by a hacker, so it needs to be restored…)
Challenges for 2007: funds to continue preparing material and training for leadership,
U$ 2,000 to change our Ford Escort 1998 to a newer model, U$ 500 for more needed chairs for our congregation, and we keep praying the Lord provide us with a property to bless our city with a place for activities and retreats nearby.
As you approach the Holidays, keep us in your prayers! We are blessed to have you in our lives!
Evelyn Saint Jiménez