Dearest friends,
Here I am: sitting at my desk with a fan working hard to cool a very hot summer day, and wondering what to write that will be interesting and at the same time challenging. Oh my!!
Well, here goes…
2007 ended swiftly, in fact, so swiftly that things tend to pass almost too quickly and one needs more time for examination…. To think back, meditate, and ask the Lord for wisdom.
It was not an easy year: Humberto went through six months of what is called today "burnout", exhaustion, insomnia… in spite of the time of testing, the Lord led us both through these months, and now we can say Allelluia!! The sun is still shining and the clouds have cleared again.
I also fell backwards in a shower in July , and had two stitches "glued" on my head, and spent two months with dizzy spells and visits to the osteopath, who helped straighten a damaged vertebra on my neck. Now I can enjoy being well again also!
Then of course, the sudden death of my sister-in-law Edith in October, due to heart complications, was a very hard moment for my brother David, of course, and she was only 53. Pray for him and his son Billy, his daughter-in-law Ines, their boy, 3, and their next baby boy, due April. What a difficult time for them especially.
So… back to the yearly meditations.
Sebastian ended his 4th year high school, with 2 more to go, sprouting like a bean stalk, he is passing the 6 ft. mark, going strong with the guitar and his tennis classes.
Nathalie finished high school and she also finished a course in fashion design: presenting 3 of her own designs in a fashion show in December. We were so happy for her, and she is so creative in this area!
Ari still is working on his thesis, but at the moment he is in Costa Rica, as he traveled with 11 other young guys from the AG Bible Institute in Buenos Aires to share and give workshops at a conference for PKs, as also to minister with the music (he took his bass guitar along). He is emailing us about his adventure: a great time with over 200 PKs, visiting not only the capital, but different cities, going to the beach, visiting the Latin Focus on the Family offices there, among other things. He finished writing a book for PKs right before he traveled, and has been presenting it there to the kids. He is full of projects!
In November Humberto and I traveled to our National AG Convention in Mar del Plata, and enjoyed the guest speaker, Tommy Tenney, the writer and preacher. I enjoyed meeting him for a few moments. His books are good reading!
Which reminds me of another well known Christian who will be visiting our city, Córdoba, in March. John Maxwell, along with a (well known in our Latin world) singer, composer and minister, Marcos Witt, will be traveling to different cities over these years, as their goal is to prepare 1,000,000 leaders over the world!! So I do plan to be part of those leadership classes, as you can imagine, along with people from church who will appreciate and pick up the challenge also!! Like Ralph Nader says, The function of leadership is to produce more leaders, not more followers.
This is our true challenge: to be able to get more people involved in serving and reaching others for Christ. This Christmas we had teams go and visit the 2 largest children's hospitals in Cordoba to give out over 500 gifts, Navigator Bibles, and sharing the gospel with the children and their relatives. Our church choir went along to sing Christmas carols.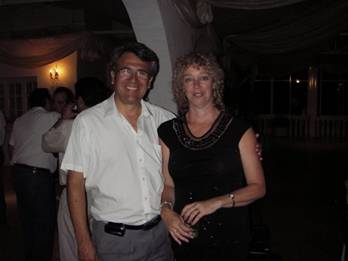 On December 25th, Humberto and I celebrated our 25th wedding anniversary (see photo) , with about 80 friends and pastoral friends, with a musical "show" with instruments, Christmas carols and some comedy time!!
Now in summer we have our different camps and retreats for kids, adolescents, teens, and families, and work on organizing our year.
As 2007 has ended, I also want to thank each of you who has given towards our work here in Argentina. We are SO blessed for our dear friends who are amazingly generous and faithful!! YOU have made it possible for us to go the "extra mile", not only financially but also spiritually.
THANK YOU, THANK YOU, THANK YOU!!
Evelyn
PS
We are still praying to make the car change within a few months, and also to finish a roof on our home "activity center".
We are presently beginning to build the 3 classrooms needed at our church building.
I wrote a Bible study on "Stress" which is now at the printers.
For any prayer requests or information, write to:
www.cmmissions.net
Office Phone: 1-704-225-3927
Office Email: officecmm@gmail.com
Note: Please write our the checks to CMM, and write our names on the envelope. Thanks!