Dearest friends,
We have welcomed the year 2007 with enthusiasm and projects of several kinds.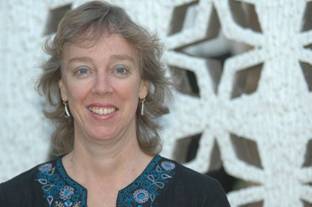 (We also ended December with all my Christmas cards and notes to friends in the States getting lost along the way in a torn envelope, which made the letters arrive to our old Gresham Box address the beginning of January… So, if you did not receive my change of mission letter in time nor a Christmas note, so sorry!! I did have you all on my heart!)
We did end 2006 with a trip to Brazil for family vacations, enjoying every minute of the lovely beach and city of Camboriu (even with a 30 hour bus trip!!) Ari, 22, just finished his 4 year college career and was able to come along also… he will be preparing his thesis during the year, along with the jobs he is now having in his profession (audio-visual Communications). Nathalie, 18, has one year of high school to go (the 6th year), and Sebastian starts 4th year high school. Classes start in March, of course, in this part of the world.
Going back to what is behind and ahead of us, I would like to share that with Humberto we have been privileged to be part of things that are "happening" in this part of the world. This month we both spoke to 65 leaders and pastors at an international Conference held in our city on missions and evangelism, called CIMA, with many visitors from other countries. In December we both team taught on counseling at the Baptist Seminar in Cordoba, which resulted in the invitation to CIMA.
Summer here is quite hot and muggy (not too many air conditioners, except for shopping centers) so things tend to be slower and easier in summer, though we work on training and preparing for the yearly events. We plan at least one evangelistic outreach once a month. A team visited a small town before Christmas and ten people accepted the Lord on the street outreach.
Two things are specially challenging:
With Humberto we are getting involved in the Christian movement concerning the educational system in Argentina: we have a most gifted professor in our congregation who is being the educational spokesman for our city, with our total support, also traveling to Buenos Aires to be a part of the alliance of evangelical churches in Buenos Aires, the capital of Argentina. It is exciting and challenging to see that Christians are being motivated to activate themselves, to set aside the unimportant differences, and to work together. So, with the official support of this alliance, we will be organizing a Teacher's Congress in our city in March this year, to gather all the evangelical teachers in our region and give them encouragement and support for what is ahead. We are blessed with a solid group of Christian teachers who are actively interested in the schooling programs.
On the other side, we are considering the challenge of renting a conference center across our church building for a Family Congress, in which seminars and workshops will be offered to also encourage and support the family. The specific challenge is that the superdome rental costs about U$ 1,000… but we believe that if the Lord is with us, we will be able to move ahead in this. We are thinking of the month of October for this. We have also been asked to organize a leadership conference in the city of Mendoza for October also, a province to the west of Cordoba, a beautiful city next to the Andes.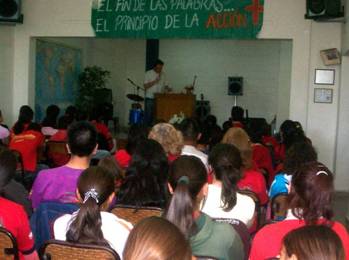 At the right, (in a photo that is not too clear), you can see our Ari teaching to a group of national trainees for something similar to Missionettes here in Argentina, a seminar held in our city. As parents, we rejoice in seeing how Ari is being useful as a Christian, but now also as a professional Christian.
Again, as a reminder, we are now part of CMM ministries, so any gifts sent to us should be marked "Humberto and Evelyn Jimenez" on the envelope, and have the check made out to CMM. Our dear new friends of CMM will be continuing with our new mission office.
As the quote above says, you all have enriched my life, not by "talking" in words, but by sharing your love and gifts with us.
We are blessed, and wish the highest blessings on your life!
Evelyn
For any prayer requests or information, check in or write to:
www.cmmissions.net
Office Phone: 1-704-225-3927
Office Email: officecmm@gmail.com