Dearest friends,
We are enjoying our entry into fall, with wonderful weather, and great days for taking walks with Humberto! We enjoy walking as much as we can, not only for exercise but also to "talk business" and organize our days! Nathalie (18) and Sebastian (15) are back in high school, meaning early mornings and busy days. Nathalie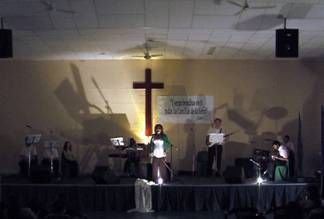 has decided to take a course in fashion design, which she loves, which adds an extra load to her regular high school classes, which are from 7:30 am to 1:30 pm, when both return for a late lunch. Then they have extra classes such as gym, "teatro" (theater) and computer classes in the afternoon. Sebastian also enjoys taking tennis classes and has another evening in which he plays the guitar in the worship group he's part of. Ari is working on this thesis.
A talented singer from our congregation made a "cantata" totally from scratch, completely made by herself, with a good amount of happy Latin music, and she worked with 10 others from church, like Sebastian who was one of the voices, and Ari playing the bass guitar, and others with guitar, organ and two more voices. Ari also prepared a multi-media audiovisual in 3D that was also part of the cantata, so that not only were the voices
and music in live but also a recreation of the resurrection of Christ on the screen with beautiful background music… the cantata performed during the three days of Easter, and we were delighted with the result. About twenty new people came during those evenings.
We are involved with is a group of about 12 classical Christian performers, called Selah, who is made up mostly with musicians from our congregation, who little by little are performing in different parts of the city as a testimony to the secular world. They play instrumental music, classic and hymns, which is so moving.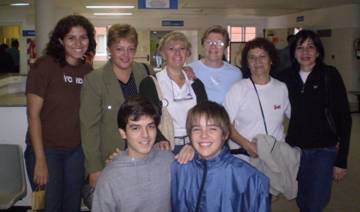 In the photo below you can see a group of gals who have just finished visiting our local hospital during Easter, one that is about 10 blocks away from our church building, and which is only for women. Also helping out in the group were Sebastian (bottom right) and a friend, Andres, who helped carry the homemade baby booties and diapers for each of the 50 women hospitalized for delivery during that weekend.
Projects ahead… our dear friends from England (who come to teach and minister once a year to Cordoba and Mar del Plata, a city next to the ocean), Colin and Judith Carson have asked us to organize a seminar for pastors and leaders in the city of Mendoza (west of Cordoba, next to the Andes) during their visit in September. We are delighted to share in this, as both Colin and Judith are wonderful teachers and have a great heart to minister to those in leadership.
An interesting note: We buy the weekly Argentine "Newsweek" magazine, and the cover for the April 4th issue had the question "IS GOD REAL?" and inside was an article with a debate between Pastor Rick Warren of Saddleback and an atheist. Most revealing for a secular magazine!
We also had the enjoyable visit of Shirley and Warren Norcom, who were missionaries to Argentina for over 20 years, and have been back to visit friends and preach and share at different congregations.
May the Lord richly bless you!! (You are beloved!)

Evelyn
Specific requests:
Change our 1998 Ford Escort car for a newer model (U$ 5000)
Produce a series of Biblical teachings in workbooks. WE ARE PRODUCING OUR FIRST WORKBOOK ON "STRESS"
A digital video camera for Ari (U$ 1,200). He is planning to produce Christian audio-visual material. PRAISE THE LORD, WE BOUGHT THE CAMERA IN MARCH AND ARI IS NOW STARTING TO PRODUCE AUDIOVISUAL MATERIAL.
We are now part of CMM ministries, so any gifts sent to us should be marked "Humberto and Evelyn Jimenez Saint" on the envelope, and have the check made out to CMM at the address above.
For any prayer requests or information, write to:
www.cmmissions.net
Office Phone: 1-704-225-3927
Office Email: officecmm@gmail.com