Dearest friends,
We are enjoying our fall season these days, with many leaves to rake up!!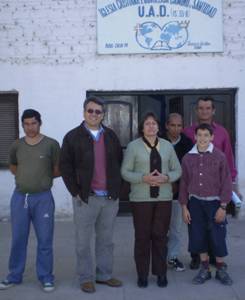 You can see Humberto, (2nd from left) and our youth leader, who went on a missionary trip to a province north of Cordoba, called Santiago del Estero, visiting several churches, and also carrying the funds to put a tin roof on a church building in the town of Las Termas, where the congregation is very poor. So it was a great opportunity to bless several pastors and leaders there.
These last weeks we have been enjoying the challenge of working with a Focus on the Family material, called Sin Excusas (Without Excuses), that teaches on values and sexuality, an excellent material! In May we trained 36 pastors and leaders who will be taking this material to schools, churches, and even two detention centers. A woman from church has weekly classes at a woman's prison, and she is teaching them values and character from this book, among many other interesting lessons. A Christian high school is already incorporating this material into its 6th year (the last high school year here) curricula. Four of their teachers attended our seminar and are excited with what is ahead for them. A young mother has presented the material to a Catholic school with 600 students.
GREAT NEWS! This month, at Manantial de Vida (our church building), we have opened a School of Music, with 25 students to start with, with voice and audio-perceptive lessons, guitar, keyboard, bass guitar, drums. (Ari teaches bass guitar). So, every Monday there is a beehive of activities. We are blessed to have quite a few musicians, so they can multiply into more musicians!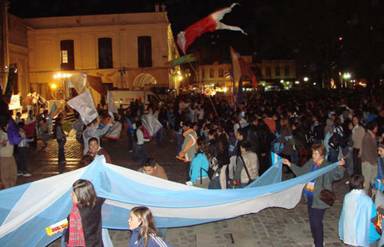 The Pastoral Council of Cordoba (of which Humberto is Secretary) organized a youth march between the city hall (what we call Municipalidad, where the mayor presides) and the provincial house (where the governor is). As you can see in the photo, about 1,000 young people marched with signs celebrating the Christian faith. And of course, our beautiful light blue and white flag. Humberto also was with our mayor that night, and presented the Sin Excusas material. We are praying that we may have the opportunity of presenting it formally during these days to the Ministry of Education of our city.
Another activity is that an interdenominational institute called CEM (Centro de Estudios Ministeriales) is being formed, a large old house has been rented and remodeled downtown to give different courses for Christians, Bible classes, Music and Art classes and others, and Humberto and I have been asked to be the spiritual and practical coordinators of the two year course that is being prepared in Christian psychology and counseling, so we have been meeting once a week with a team of six Christian psychologists who will be teaching the different classes to organize the curricula. (Last year Humberto and I taught two months of counseling to a group of over 100 students at CEM, as I wrote before).
On June 16th, we had another Fiesta del Espiritu Santo (Holy Spirit Celebration), which our organization hosts once a year in the superdome across our church building. About 7,000 people came and the speaker was a gifted Brazilian-turned-Colombian pastor, Satirio dos Santos. At our church building we hosted a conference the Friday before, with dos Santos speaking to specifically to 400 leaders and pastors of Cordoba. As one of the main organizers, Humberto is happy it's (happily) over! And ready to plan for 2008…
We celebrated Humberto's 50th birthday in June, with all sorts of meals and celebrations, yep, half a century on the way!! But blessed and thankful for each day the Lord has given us as a family.
Thank you for being part of us, thanks for sharing prayers and gifts with us.
God bless you richly!

Evelyn
Specific requests:
Change our 1998 Ford Escort car for a newer model (U$ 5000).
Very specifically!! We need more friends to contribute for our mission work here… We are so grateful to those of you who give faithfully and regularly over the months. Bless you!
We are now belong to CMM ministries, so any gifts sent to us should be marked "Humberto and Evelyn Jimenez Saint" on the envelope, and have the check made out to CMM at the address above.
For any prayer requests or information, write to:
www.cmmissions.net
Office Phone: 1-704-225-3927
Office Email: officecmm@gmail.com