Dearest friends,
Here we are in Argentina welcoming spring, after a very cold winter for the Córdoba people, and I wanted to share a photo with you, with a most unusual event for us here… Snow!!! Amazing, only for one day, but was so beautiful to enjoy here in our city and in our rugged mountains and towns nearby.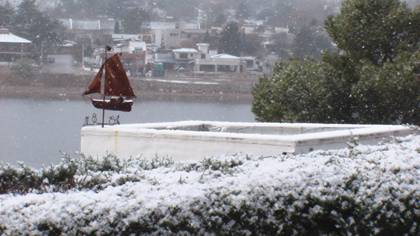 It is a very political year for our country, as we have our provincial and municipal elections this month, and presidential elections in November, where the main candidate is the President's wife, Cristina Kirchner.
I have had some special activities for ladies' groups, teaching on the Jezebel spirit to about 100 women leaders in a retreat (this interesting subject was assigned to me), so it was interesting and challenging. Then I was invited to another town nearby to speak to an open group of women who are invited once a month to an ex-movie theater to listen to certain themes. I was asked to speak on the differences between men and women. More preparation and study!! (I do enjoy this, so don't feel sorry for me…!) About 30 women and 2 men attended.
In July I slipped and fell flat backwards in a bathroom and banged my head while I was showering in a hotel, (had my wound "glued" together) and have had some dizzy spells since, so Humberto has been my self-appointed chauffeur for these events, as I did not feel I could drive the hour or more distances for these events, bless his heart! But today, after sessions of physical therapy and the practice of an osteopath, I am feeling so much better. I do have to avoid some things, like sweeping and ironing, lifting weights and such… but it is such a relief to be better every day. I have also taken my own ladies on retreat, with the theme subject "Embelleciendo el Jardín de tu Vida" (Beautifying the Garden of Your Life) with 40 ladies attending.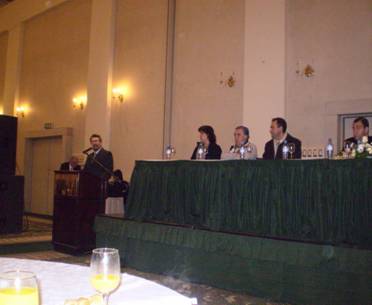 Humberto (photo, left) was invited to be the main speaker at a breakfast organized for businessmen and Christians, in representation of the Cordoba Pastoral Council: about 300 people attended at the Sheraton Hotel, with the presence of our mayor, and other politicians. He spoke on leadership qualities, based on Nehemiah. I was also invited to attend, and also had the chance to greet the mayor personally. He's quite a colorful character but has been very receptive to Evangelical Christians. (He's on the far right).
This October Humberto and I are organizing a Congress for Pastors and Leaders in the city of Mendoza ("Impact your World"), next to the Andes, at the request of our dear friends, Colin and Judith Carson, from England, who come year after year to Argentina to minister, encourage and challenge the leadership here with an anointed word. A local church will host the event, and we are looking forward to these two days, September 24th to 25th. We will travel there of course. Our son Ari is a great help, designing the ads, and doing most of the organization. Pray, as this is the first visit of the Carsons, and pastors Debbie and Peter Leal from Minneapolis, to this city, that many will be encouraged to attend and be blessed.
A team of Missionary Ventures will be visiting Cordoba again this September, so we will enjoy the visit of our friend, Paul Bendele, with a team that comes to bless, to build, to encourage this part of the world.
So… we are blessed, glad to be useful as the Lord guides!
May God richly and deeply bless each of you!
Evelyn
Specific requests:
Change our 1998 Ford Escort car for a newer model (U$ 5000).
Any gifts sent to us should be marked "Humberto and Evelyn Jimenez Saint" on the envelope, and have the check made out to CMM at the address above.
For any prayer requests or information, write to:
www.cmmissions.net
Office Phone: 1-704-225-3927
Office Email: officecmm@gmail.com
PS This newsletter got lost in the mail, so here go both newsletters together!!