Dearest friends!
We've had some interesting times as we started our year, in March 2008. The two younger kids, Nathalie, 19, started to go to a School of Fashion Design, Sebastian started 5th year high school (of six), and Ari is almost finishing his thesis. Ari is being blessed with two specific challenges this year: he is now the web manager for one of the most popular Christian pop groups of Argentina, and he is also a teacher at our AG Bible College, teaching writing and communication, a young professor at 23! (But his college degree agrees with that, as he studying audio-visual communications). I am starting my last year to get a degree in family counseling, and enjoying the studying.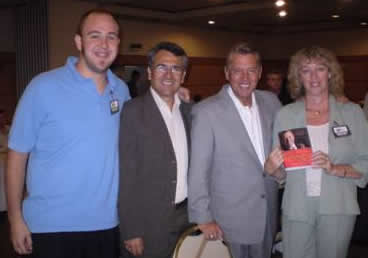 As you can see in the photo, we had an exciting visit to our city, Córdoba. You can see our son, Ari, on the left, then Humberto, Mr. Maxwell and myself. On March 7th, along with a small group of pastors, we met with writer and speaker John Maxwell, at our local Sheraton hotel. He shared a world wide mission he is currently working on, which is to train one million leaders in the world in the ministry, dedicating an important place for Latin America. What a wonderful person he is!
Later that evening he trained over 2,000 leaders and pastors in our city and continued with his intensive tour in South America. He presented his last book, which he printed first in Spanish to bring with him, Leadership: Golden Principles (translated from Spanish).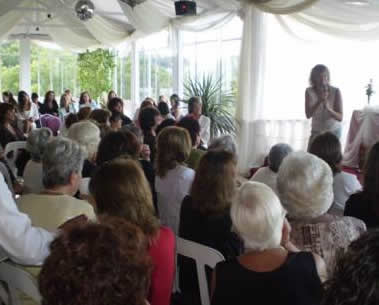 On March 8th, I spoke at a ladies' tea, in a nearby town called Salsipuedes, at a place for weddings, to about 250 ladies who probably never heard the gospel. I shared about God's love for us, and how we should love ourselves as He loves us, sharing as simply and as humorous as possible, as mostly didn't know who I was. (I was presented as a writer because it was a secular event, see me in the photo, right). At the end, I invited them to stand and pray with me, and I felt many of them were touched in their hearts. (We had a time for live music and we gave out 180 New Testaments at the end). I went with two musicians from church, and with four gals to help preside the event and serve the food. Many women ended up standing for lack of chairs! It was a bit overwhelming, but we praise the Lord for all these lovely ladies!
We are starting our School of Music with 40 students in April, using the two new classrooms that were built. For this Easter we had our annual Multimedia Cantata, with 15 musicians, open to our neighborhood.
I also continue to work with projects that will be helping with medical and educational aid, and also job employment and training, through eight local churches located strategically throughout out city, in impoverished areas.
So…
The Lord has blessed us with funds to change our car, so pray for us to get the right one!!
Something else: check out our new church web page: www.manantialdevida.com.ar, that we are putting together these days.
Always remember: You are an important part of our work here in Argentina…!!

Needs:
Finish putting a metal sheeting on the roof of our home "activity center". U$ 1,000
A newer bass guitar for Ari U$ 500.
50 more chairs for our church activities U$ 500.
For any prayer requests or information, write to:
www.cmmissions.net
Office Phone: 1-704-225-3927
Office Email: officecmm@gmail.com