Dearest friends!
I have often wondered what things to write in a newsletter that may prove interesting, perhaps challenging, informing, but never boring! Because it's more than a list of things done or things to do… our work and service for the Lord is much more than that for each one of us who love the Lord and strive to be a useful servant… but the truth is, it's quite impossible to really express what one can do or share with people in a simple newsletter. Anyway, I hope you can see my dilemma in this, and be patient with me with each newsletter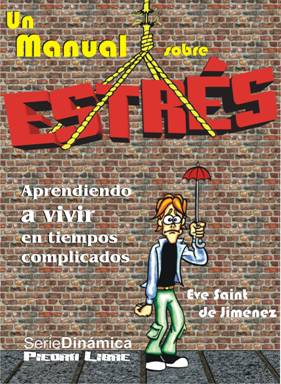 Argentina is having its share of difficulties, with great strife between the "country" people and the government, bringing strikes, limiting and stopping national transportation, facing another big inflation, lack of meat and milk products and so forth …. a Chilean volcano also has been launching tons of ashes over to Argentina, bringing destruction and ruining fields and animals and water… These are times for us as Christians everywhere to be very aware of the times we are living and to live responsibly and with a caring heart to the needs and challenges around us.
Today I am continue to help out with a team of people with a government project that is slowly growing into helping the city with projects to specifically help needs such as violence and alcoholism through Christians. I have published a Bible study booklet –see the cover- on Stress "Learning how to live in complicated times" (with some humor in it!), and have been teaching at different places, at ladies' groups, as also the local Bible Institute, along with our congregation tasks.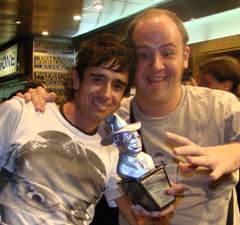 This March our son Ari had a most interesting experience. As a freelancer, he works as web master of a very well known Argentine Christian rock band, called Rescate (who is at this moment touring the United States). He was traveling to Buenos Aires during one of the days of the strikes and road blocks, to be part of a ministry with pastor's kids he is involved with; so, instead of arriving in 10 hours, he arrived the following day 20 hours late… as he was arriving, he got a call from this group inviting him to the first participation of a Christian group to a secular event called The Gardel Prizes (Carlos Gardel is Argentina's top tango singer, though gone many years)… so straight after arriving so late to Buenos Aires he was in a local theater, getting to see and meet many famous secular personalities… and yes, Rescate did win the first Gardel prize awarded to Christian music. In the photo you can see Ulises (left), the band leader, holding the prize and of course, Ari, having some fun. (He filmed and took photos at the event, which are in their web page www.rescaterock.com).
So… as my Dad used to say… "Life is never dull!"
Challenges ahead:
We are helping organize an event with the Haggai Leadership Institute, which will be held for the first time in Córdoba this month, and
Humberto is also part of the group organizing our yearly Fiesta del Espíritu, which is also held in June, gathering over 7,000 people in the dome across our church building.
Check out our new church web page: www.manantialdevida.com.ar, that we are putting together these days.
Always remember: You are an important part of our work here in Argentina…!! Your gifts and donations make a great difference!
Prayer requests:
To keep focused on what God wants us to do.
To provide new donations for our support in Argentina.
For times of rest and renewal in our personal and family lives.
Needs:
Finish putting a metal sheeting on the roof of our home "activity center". U$ 1,000
A newer bass guitar for Ari U$ 500.
50 more chairs for our church activities U$ 500.
For any prayer requests or information, write to:
www.cmmissions.net
Office Phone: 1-704-225-3927
Office Email: officecmm@gmail.com
Note: Please write our the checks to CMM, and write our names on the envelope. Thanks!
God bless and take care!
Evelyn