Dearest friends,
We have finally started another step stone in our mission work, something that is so basic but necessary these days: we have our mission web site!! So we thank the Lord for this tool, which we pray will be a blessing and a discovery for those who have a heart for missions. So take a few minutes and browse and if you can, send me your comments! I especially thank our son Ari who is such a talented and most useful son!! (He is very patient with his not-so technical mother!)
We attended a Haggai Institute Leadership course some weeks ago, on How to Team Work, very enjoyable, very useful. We went with 12 of our leaders and enjoyed the time learning together.
And yes, on June 21st we had our 4th year of the Fiesta del Espíritu Santo, held at the Superdome across our church property, with about 5,000 attendants, to participate in a youth afternoon full of music, dramas, bands, and then the praise and worship service and a dynamic preaching of the Word. Now Humberto can rest a bit from these months of working along with a group of pastors to organize this big event.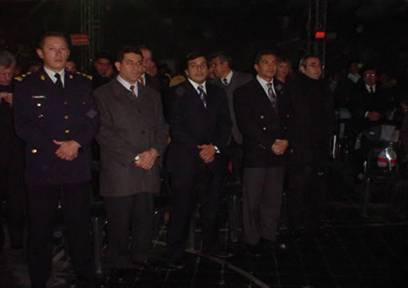 As I shared before, I have been pitching in with a Christian man who is now in our present (provincial) government, being involved with activities that are meant to bless our city. As you can see in the photo, a historic event happened on June 18th, concerning two things: the chief of police and some of the head police of our city came to the meeting organized at a local church for this purpose: to bless and pray for them in representation of all the city police (they all received a Vida con Propósito book, by Rick Warren), and then with several political authorities who signed an agreement to start backing Christian organizations that are involved in youth programs, children's activities and such. So here you can see the row of officers with the pastors standing behind. The meeting had a wonderful time of praise and worship, along with these presentations.
If you haven't, check out our new church web page: www.manantialdevida.com.ar, that is growing slowly but surely.
Always remember: You are an important part of our work here in Argentina…!! Your gifts and donations make a great difference!
Prayer requests:
To keep focused on what God wants us to do.
To provide new donations for our support in Argentina.
For times of rest and renewal in our personal and family lives.
Needs:
Finish putting a metal sheeting on the roof of our home "activity center". U$ 1,000
50 more chairs for our church activities U$ 500.
For any prayer requests or information, write to:
www.cmmissions.net (you can donate to us online in this web site)
Office Phone: 1-704-225-3927 Office Email: officecmm@gmail.com
Note: Please write our the checks to CMM, and write our names on the envelope.
Thanks!
God bless and take care!