Dearest friends,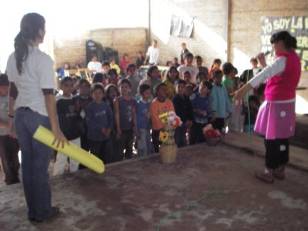 In the photo you can see a missionary trip we made to the province Santiago del Estero in July, where we are helping a pastor finish his church building, having a children's program, free hair cuts (and eliminating a lot of lice!), gifts and ministering to the congregation. This month we go to Capilla de los Remedios, a town of 600, to have a similar outreach for children also.
We have had a month of evangelistic events for young people at our church, with music bands and activities, and over 30 kids came to church for the first time. Our children's group also led the worship one Sunday morning, which was impressive, made us grownups shed a tear or two!
We also celebrated Children's Day (the second Sunday of August) with hot chocolate, games, gifts and a Bible message for 110 children at Manantial de Vida (our congregation), for which we are so blessed to have a great team of teachers and helpers. Interestingly, people from the government, through our Christian friend (who is presently a public servant) donated 3,000 portions of hot chocolate and an assorted bag of candy and gifts for kids for the Evangelical churches in Córdoba. Humberto and another pastor friend were in charge of the distribution, so 25 churches in the poverty areas of our city were blessed with this for Children's Day also. It was an added blessing!
So, we have a Spring Youth Outreach planned for this month (our spring in this part of the world!) and events training leaders and couples.
Our church web page: www.manantialdevida.com.ar
Our new English mission web: www.jimenezsaint.com.ar
Always remember: You are an important part of our work here in Argentina…!! Your gifts and donations make a great difference!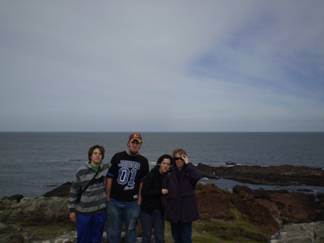 Prayer requests:
To keep focused on what God wants us to do.
To provide new donations for our support in Argentina.
For times of rest and renewal in our personal and family lives. We enjoyed a family vacation for a week in Uruguay! (See me with my kids at the Atlantic ocean).
Needs:
Finish putting a metal sheeting on the roof of our home "activity center". PTL! A dear friend from Baton Rouge gave us the funds for this!
Special gifts for our June 2009 trip to the States, to attend a "Saint family reunion" with the Saint cousins, most of whom I have not enjoyed meeting (being born and raised in Argentina) and to visit churches, and friends. All five of us will travel, so we are available for meetings, home groups, just visiting and sharing in the East coast (preferably). U$ 6,000 needed for plane tickets. Let us know if you would be interested in receiving us and sharing with our ministry.
For any prayer requests or information, write to:
www.cmmissions.net (you can donate to us online in this web site)
Office Phone: 1-704-225-3927
Office Email: officecmm@gmail.com
Note: Please write our the checks to CMM, and write our names on the envelope.
Thanks!
God bless and take care!
Evelyn
PS To contact us, write directly to our email address.
PPS We just enjoyed the visit of Steve Beam, President of Missionary Ventures (based in Orlando Florida) and two friends, Stewart from Alaska, and pastor Bill from Orlando (on a Latin America missionary tour to several countries), who shared in a challenging Leadership Seminar in Córdoba, among several other events. Humberto and I were specially blessed with their teaching.