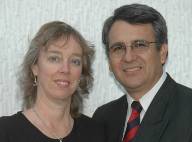 Hi again and welcome to 2009! My, what interesting days we are facing world wide! And yet, we can believe that God still knows what is happening and that He is still in control. That's why the quote encourages us to grow and move on with God! And this growth is our personal determination.
We are thankful that the Lord has kept us also here in Argentina, where the effects of the world are also arriving here, unemployment, uncertainty… but glad to be serving and working here with our family.
For 2009 we have several challenges:
As you can read down below, I am adding an online travel agency service so that by shopping there you are also contributing to our work.
We are planning to travel to the States in June, attend the Saint Family Reunion, and tour and speak in several places. That is quite a financial challenge for us, but we believe it is well worth the effort.
We are working with the government to see that 800 children from our churches have an opportunity to go the their summer camps, which are excellent.
We are presenting projects for the city concerning musical events, youth activities; we are also involved in several social activities in which the gospel is communicated.
We will continue with our School of Music, and expecting many more students!
We are also working on producing at least 3 more books on needed subjects.
Humberto presented the manual Without Excuses (of Focus on the Family), on moral and sexual education, to a legislator in our city this November. He is a man defending the rights of the unborn child.
We finished the year teaching at two marriage seminars, training over 200 people.
We also expect that our support will continue to be firm and to have new friends and donors to join our work.
Thanks! God bless and take care! Have a great 2009!!! (And keep reading on…)
Great News for our friends!
We are delighted to share with you a new door that has opened up for our mission work extension in Argentina.
As of today, I am a Referring Travel Agent for a Christian online travel company in the States. What does that mean? That if you choose to travel or shop through the web site listed below, you will be also sharing with our work in Córdoba, Argentina.
In this web site you can book golf, romance, and outdoors packages, tours, flights (national and international), cruises, tickets for attractions, send flowers, gift baskets, chocolates and wreaths to many parts of the world, rent cars, shop home décor, food and gifts, wellness and beauty, apparel and accessories, passport and visa applications, financial services… and many other benefits online.
As the company says, "The program… is already helping THOUSANDS of non-profits across America… Through this website, your …friends, families… can book their personal and business travel 24 hours a day, 7 days a week… and… help a cause you believe in…"
What is most interesting is that it's a Christian run company. YTB International Inc. was recognized as the 26th largest seller of travel in the US… and some more facts:
Travel is the most researched topic on the Internet.
Travel is the world's largest industry, and it's growing 23% faster in the US alone. Experts predict it will double its income by the end of the decade.
82% of all personal travel is booked online.
Everyone loves to travel.
And if you book and shop through the web site below, you will contributing to the Jiménez-Saint family in Córdoba, Argentina.
So, please check the website out:
www.ytbtravel.com/evelynsaint
So… keep us in mind if you can benefit from this web site, and please pass the word on to your friends!
Humberto and Evelyn Jimenez-Saint /Argentina
CMM
PO Box 7705
Charlotte NC 28241
jimenezsaint@arnet.com.ar
www.jimenezsaint.com.ar