Dear friends,
We trust you have started the year 2009 full of blessings and expectations, in spite of the world news! And growing in The Son…
We have started the year traveling quite suddenly to Peru on family business… Humberto's father dad died before Christmas, and we felt that we should go as a family to visit the cities of Arequipa and Lima to work out family situations and to bless Humberto's family, who, if you remember, is Peruvian born, but came to Argentina at the age of 16, where he has lived since. So it was an action-packed trip, visiting relatives, doing paperwork, attending the mass in memorial of Humberto's Dad, and especially spending time with Elsa (my mother-in-law) and my sister-in-law and her family.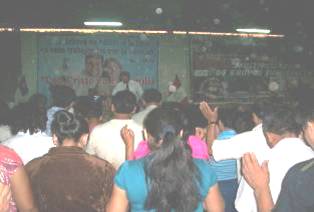 But Humberto also phoned a long lost friend from his military high school the last night we were in Arequipa, and it resulted in 20 schoolmates meeting at a restaurant and Humberto sharing the gospel to all of them, discovering that three were Christians now… imagine meeting your classmates after 36 years, wonderful! We also met with missionaries Mariesa and Lew Davis, a lovely couple preparing Bible students in this city, to share a delicious Peruvian meal at Elsa's restaurant,
We then flew to Lima, where Humberto had the opportunity to preach in two different congregations, a large one in a tent-like property with about 1,000 people, and a small church recently begun in another part of the city. In both places, it was especially meaningful for Humberto to be preaching to his own people… many came forward to receive the Lord and be ministered.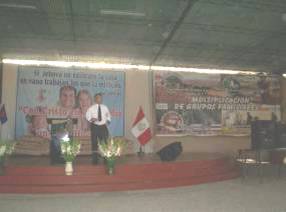 Then, the same evening we returned to Córdoba, we had an event held in our church building, for a well known popular music group of Latin Rock called Alternativa, held especially for young people. In the right photo, Sebastian is with the main musician.
We are also working on the yearly plans for activities for the city, as we pray the Lord opens doors for more opportunities of sharing the Good News…

A new publishing house is preparing a book I wrote on the communication in marriage, to be printed this March. As I've written before, I have one final exam to finish in order to receive my degree in family counseling, which I've been working on for three years. My writing projects for this year include writing a book for women, and a story for adolescents, with illustrations and adventures.
We had the joy of accompanying our young people on their summer retreat, with 60 kids enjoying good teaching, and the beauty of our Córdoba mountains.
On February 12th, I turned 50 (wow, I admit it sounds like a lot!!) But I feel great, I am so blessed, my family is such a joy, and even though the ministry is not always a piece of cake, the Lord has been so faithful in keeping us. We are grateful!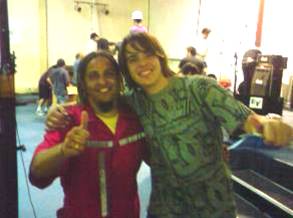 And of course, as a family we are looking forward to our trip to the States in June, to be at the Saint family reunion (www.saintfamilyreunion.com), and three whirlwind weeks of meetings and activities. We are praying the Lord will provide the finances and opportunities to be a blessing there!





Prayer requests:
Travel expenses for June 2009
Funds for a newer bass guitar for Ariel U$ 800
Funds to produce new teaching material U$ 500 each.
Electric guitar for Sebastian U$ 300.
Be blessed!
Evelyn
Note: Please write out the checks to CMM, and write our names on the envelope (you can donate to us online in the CMM web site).
PS To contact us, write directly to our email address