Dearest friends,
The Lord is good! And like the quote expresses it, youth is a state of mind… and we are as young as that in which we believe… and as Christians we know that Christ has risen to bring hope and salvation to us…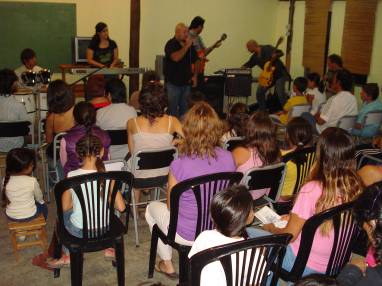 We have had months of many blessings and challenges. In the photo, you can see the new music group that was formed with this young ex-rock musician, and they traveled to a small pueblo in Córdoba to minister with music and testimony… we are delighted to add this new venture to our outreach, as this young man has a strong testimony of leaving the rock and drug culture and finding the Lord… and the songs are his own, so it becomes doubly special! Their next outreach will be a very marginal neighborhood in our city, where the youth will also be evangelizing on the streets along with the music. (See our son Ari at the right, sitting playing the bass guitar).
Our third year of music school started last month, with 28 students, and Christian professors, for which we are delighted… teaching guitar, percussion, singing and keyboard. Pray for us, that the funds for the professors may be available each month… (half of the students have scholarships).
We continue to help with government projects. We have presented five projects that will possibly be financed by the government, through our friend who is part of the present one, to reach many congregations in our city: schools of music, sports, educational courses, computer programs and arts.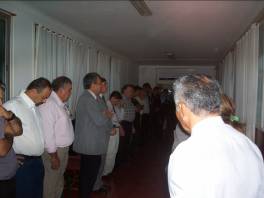 God is opening doors! We gathered on April 29th with over 40 pastors with the Minister of Social Action of our provincial government, in which he reaffirmed the 50 projects the government will be funding to evangelical churches in our city. What a great opportunity! Imagine 50 churches offering programs that will extend spiritual and social aid in these days to their neighborhoods! The four Christian schools will also participate in this program, probably receiving equipment like computers that will be useful to the students. So… Humberto and I are participating on the organization of all this, so that things will turn out efficiently. In the photo Humberto is praying for the Minister, who's at his left, and then left again, is José, our friend in the government who is enabling these possibilities.

More good news! If you remember, we have been praying for a property to use for retreats and activities for several years… and see our answer to prayer! A friend who owns property close to the city of Córdoba (just 20 minutes away) is donating 6000 square meters of land in which to build and prepare such a place. The challenge? We need U$ 2,000 to pay for the legal paperwork. The property borders a small creek, and has trees and greenery… what we need next are funds to build a fence and start with the basic requirements for the place to be useful, bathroom, a roof, and a basic kitchen. Another U$ 3,000 would provide for this. In the photo Humberto and a friend are "treading the land".
Important notice: We have been praying about our trip to the States, but even though it would have been a joy to be with friends and family and churches, we decided that the timing and various other factors are indicating that it is wisest for us not to travel. So.. we have cancelled our trip.
Prayer requests: Even as we are aware of the difficult world economy, we trust the Lord to continue to raise mission warriors that will bless the mission field! Humberto and I are so grateful to those who give to our ministry in love and faithfulness!
Be blessed!
Evelyn
Note: Please write out the checks to CMM, and write our names on the envelope (you can donate to us online in the CMM web site).
PS To contact us, write directly to our email address
CMM, PO Box 7705, Charlotte NC 28241
E-mail: jimenezsaint@arnet.com.ar
Web: www.jimenezsaint.com.ar
www.cmmissions.net