Hi there!
These words of reflection are sobering, aren't they! But yes, one of the most dangerous words for a Christian is "Tomorrow…" We are to live each day to the fullest, blessing and reaching out as the Lord gives us strength and the heart to do so. I remember a preacher years ago when he asked, "What would have happened if the people had not prepared the donkey for Jesus, for his entrance to Jerusalem? What if they had thought, What can a colt do to make a difference?" (Jn12:15) Yet our life is full of simple acts done each day. And let's not forget how important each of us is in the Kingdom of God.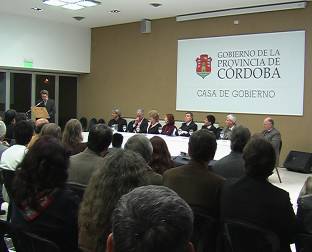 We are living challenging times in our city! Things we have prayed for and worked for are becoming realities. Let me tell you about it. The government is providing funds for 50 churches to have the tools to offer several projects in their neighborhoods… instruments for schools of music, tools for industrial sewing classes, equipment for sports activities, computers for training people, and so forth. The 4 Christian schools in the city will receive 8 computers each. On May 12th we had a private meeting with the governor's wife (speaking in the first photo, H and I are at her right) and the Minister of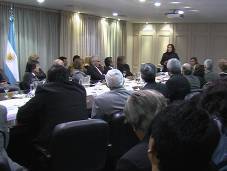 Social Action along with over 40 pastors, and then a public meeting with 500 Christians in attendance with these public officials present, our friend Jose presided and shared his work and the presentation of these projects, a dvd on social projects was shown, Humberto shared some thoughts (see next photo), and then we all sang a song called Dios de Pacto, God of the Pact, by Marcos Witt, which brought tears to all of us present!
Then that following Friday, Humberto and four other pastors were invited to share a time of prayer with the Mayor of the City. What was interesting is that the copy of The Way of The Cross (done by my dad) we had donated about ten years ago for the then-Mayor had disappeared when his mandate ended, but now it's back on the wal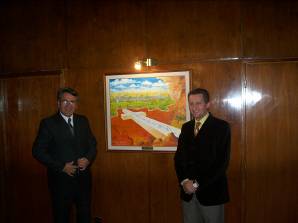 l again, for testimony and inspiration! In the photo Humberto (left) is with our young Mayor in his office.
So… even though we did decide not to travel to the States, we see how the Lord has permitted so many wonderful things to be happening these days. We will miss seeing wonderful friends and family, and we will be open to another trip later on, as the Lord works things out.
In the meantime, we are busy, happy, and praying for all the resources needed to continue serving Him, as we continue to work on projects that will be reaching many cordobeses. With Nathalie and a hairdresser from church, we spent one afternoon in a very poor neighborhood, attending about 12 women and children. Nathalie is our beauty expert, and loves to make up the women who get the haircuts… I am simply the errand-girl and driver!
Needs ahead: A newer computer for me… my faithful friend of many years is getting old and cranky in her services! U$ 800
PTL… the donated property paperwork is on its way. (We would need funds for the that and to start building s small kitchen, bathroom and roof to begin with to be able to use the place by our next summer U$ 5,000).
My book on communication in marriage comes out this month…
Ariel finally finished his thesis and got his degree last month. We are delighted!
Prayer requests: Even as we are aware of the difficult world economy, we trust the Lord to continue to raise mission warriors that will bless the mission field! Humberto and I are so grateful to those who give to our ministry in love and faithfulness!
Be blessed!
Note: Please write out the checks to CMM, and write our names on the envelope (you can donate to us online in the CMM web site).
CMM, PO Box 7705, Charlotte NC 28241
PS To contact us, write directly to our email address
E-mail: jimenezsaint@arnet.com.ar
Web: www.jimenezsaint.com.ar
www.cmmissions.net