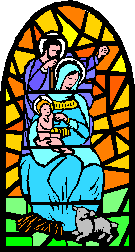 Dear friends,
What a difference the world would see if we truly had the beauty of the Lord reproduced in our lives, in generosity, patience, joy, service, forgiveness! For that is the true spirit of Christmas, the humble birth of a child destined to be King of humanity.
In our work here, we can only be grateful to be a little part of many things that are happening in this small part of the planet, this wonderful and conflictive country called Argentina!
Over the year, we have taught six marriage conferences with different churches, we have had one leadership conference (in Uruguay), and we have been part of two important events in our city, the leadership conference of the Harvest Evangelism ministry, and another very important Messianic event that was held the last days of October. In the Harvest Conference, Humberto, Ari and I were blessed with wonderful prophetic words of encouragement by Cindy Jacobs.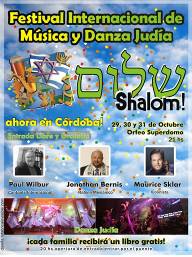 The Jewish Voice ministry, headed by Rabbi Jonathan Bernis, organized a huge 3-night outreach event in the Orfeo Stadium (as you know, across our church building) the end of October, a Festival of Messianic/ Jewish music, and dancing, with special guests such as Paul Wilbur (wonderful singer) and Maurice Sklar (violinist) and of course, the message by Rabbi Bernis. My son Ari and I worked with them in practical matters such as publicity, printing material and books, and booking meetings for the team in different congregations of the city, hosting a breakfast for 65 leaders, and such. Ari's designs have been covering the city with the publicity! An Argentine Messianic pastor/ Rabbi Goldstein, working with the Jewish Voice, spoke in several congregations here, opening our eyes towards the Jewish situation in Argentina, and inviting us to pray and open our hearts towards the Jews.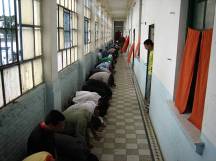 This next photo has to do with a secular documentary movie done by a Jewish director was made about a Christian jail ministry in Buenos Aires, called Unidad 25, filming the story of a young man who arrives there, and his life is completely changed by the gospel! This film was first shown in Córdoba during a week in August, and here we are with a group of pastors and the team of the film company at our church, promoting the event (I'm in red.. and you can see my brother David in the back row). I had the privilege of meeting the chaplain in charge of this great move of God in the prison ministry in Buenos Aires, in the Cárcel (Jail) of Olmos, a Korean pastor and lawyer, brother Park. In the next photo you can see what is actually happening in that prison, you can see the row of prisoners kneeling in prayer. One interesting thing is that there are no doors in that prison, and the men are allowed to u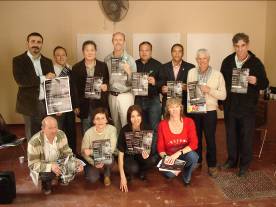 se tools to learn trades (that could be otherwise used as weapons).
And now as the year 2009 is ending, and a new year is beginning, we ask that you pray for us and consider our ministry to support and make more things like this possible!!
Perhaps your congregation might be interested in giving towards missions in Argentina? Or perhaps you know somebody who has a heart for this country? Please invite them to share with our ministry! If the provision multiplies, there is more we can do!

Have a blessed Christmas and wonderful New 2010!
Be blessed!
Evelyn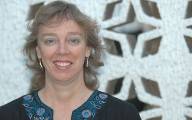 Note: Please write out the checks to CMM, and write our names on the envelope (you can donate to us online in the CMM web site).
CMM, PO Box 7705, Charlotte NC 28241
PS To contact us, write directly to our email address
E-mail: jimenezsaint@arnet.com.ar
Web: www.jimenezsaint.com.ar
www.cmmissions.net