Dearest friends,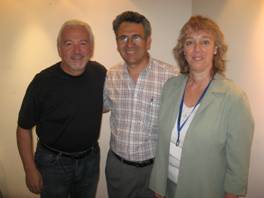 I thought the words of Teresa of Ávila would be a wonderful challenge for 2010. I have been reading about so many encouraging prophetic words about 2010, that I'm anxious to see what God will do this year! (In the photo Humberto and I are with wonderfully gifted singer, Paul Wilbur, October 2009, at the Jewish Voice event).
Which brings me to the gist of this newsletter. I will not be writing the usual newsy kind, but write of our projects and dreams. I thought this title would be adequate: "Adopt a Project in Argentina Newsletter".
You well know how the mission giving has dropped in most of the organizations in the US, in our specific case, it dropped about 50%. (Please read a prophetic word I have pasted on at the end). This does mean we reduced the extension of our work, but still, amazing things have worked out, paving the way for a Great 2010!
So I wanted to share the Adopt a Project in Argentina with you, so that you might consider a specific gift in an area you would be interested in, as you pray about investing in the Kingdom:
A monthly family income of U$ 2,000 (we presently cover about half of this with US donations), that involves education, transportation, etc.
A music scholarship for one student per month U$ 15 (30 students presented their learned music abilities in December, at the closing of our music school year. But with more funds, we could reach twice that number, as about half can pay, and the others are on scholarships).
Putting a ceramic floor in our church building U$ 7,000
A youth event to reach several hundred kids, with music, mimes, bands, etc. U$ 1,000. We could hold several events a year in public or government properties.
A country property in which to hold retreats, activities, conferences, and such U$ 30,000
To change our present home to a larger home (to have more office space for our editorial, social and ministry needs, a bigger yard) U$ 30.000.
To print a Bible study booklet (500 copies) U$ 500 (I am writing a booklet on self esteem to give out in high schools along with a program with mimes, videos and music, among other booklets to write).
To open a trade school in a neighborhood full of young people who have quit high school and are involved in drugs and alcohol. U$ 200 monthly. The government has loaned us a building we are using for a weekly activity for young people since last May, with an attendance of 30 to 40 kids.
A new computer for me (my Old Faithful is about 15 years old and needs renewal in technology and speed!) U$ 600
(Dallas, Texas)— As reported in The Christian Post, the pastor of the Potter House (TD Jakes) alluded to a Biblical passage in the Old Testament book of Joel, calling 2009 a year when cankerworms, palmerworms and locusts ate into people's resources, retirements and homes. But just as Joel prophesied in the Bible, Jakes reportedly believes God will restore in the new year what was taken away. When you look at 2010, I believe it is time for us ... to look at the fact that we have been through enough things, been through enough turmoil that now we're ready to move to the next level," he declared, noting that 20 is "10 carried into a double dimension."
"Whenever God pulls back a bow, the arrow is going to go further than it's ever gone before," he said. "I believe that the turning point is going to be 2010. I believe because we have crossed this Jordan like Elijah and Elisha that we are now eligible to step into a double portion. Financially, yes. We need it; our country needs it; our world needs it. But beyond that, wisdom, inspiration, a new development of faith; I believe new ministries are going to burst wide open."
So… thanks for sharing with us! And it you want to share in our mission work, thanks again!
Be blessed in 2010!