Dear friends,
Once again I find that words become a blessing to my life! And it makes me think of the word "revelation", which is to "see again"… which means that we need to "see again", with fresh eyes, with a new vision, with new hope, what God has for us. To see even our "old" problems in a new light, so see our challenges with courage, and to do each day what the Lord has for us to do! "Put the best into all your day"! Read on and enjoy…
Each day is a storehouse given you
Fresh every morn from God's hand;
Do you stop to think of this
When at its door you stand?
Twenty-four empty, waiting hours,
All ready for you to fill with
Worthwhile thoughts and worthwhile deeds
And service, if you will.
You're given a chance to store
Away treasures of love and joy,
And satisfaction of work well done
That time cannot destroy.
So put your best into all your day
With eyes opened wide to see, and
Eager hands stretched out to grasp
Each opportunity.
Unknown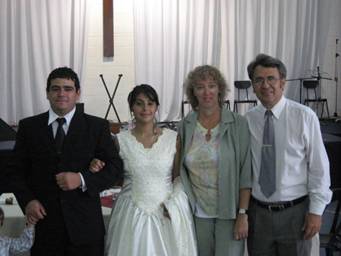 And the Lord is always giving us opportunities to reach out, bless others, and grow in our personal lives. In the photo, we had the joy of marrying a young precious couple, who have become active and part of our congregation. Weddings are special moments! What was interesting is that Matías and Roxana decided to be married during our Sunday morning worship service, so we combined our regular church meeting with a wedding, and later had a luncheon for family and friends right there at the church building. Weddings are a wonderful moment to invite relatives and friends.
In this following photo you can see Ari (at the right) with his new bass guitar, playing with his group, Pinguino Santo, and if you notice the girl playing the violin, she was an invited musician for that night, a pastor's daughter and excellent violinist… for this night she played reggae, ska and Latin rhythms…! This group is now performing in different parts of the city, with a strong evangelistic message. Check their page: www.pinguinosanto.com.ar.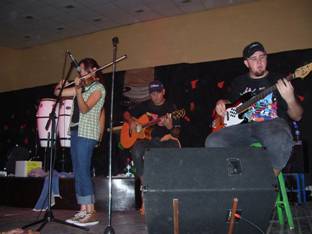 Another door has opened for us, unexpected, though we had been praying about it for several years. Ten years ago, Humberto and I had a live weekly radio program at a Christian FM radio station that lasted over 3 years, in which we shared practical subjects on family, general Christian living, how to deal with daily problems and so forth, but mostly to a Christian audience. When we decided to wait until we could go "secular", we looked around for opportunities, but it was very expensive and very far from our possibilities. Yet about a month ago, as Ari went to a secular radio to take the Pinguino Santo demo and share live on a program presenting new bands, the administrator (who turned out to be a Christian) expressed the opportunity for a program… so you can imagine, Humberto and I jumped in to the open door…it is the 8th FM radio station in our city, and we begin next Tuesday April 6th from 8 to 9 am, and will be there weekly in this schedule. (If you can figure out the time schedule, you can hear us by Internet www.radiolatinacordoba.com.ar, though sorry, in Spanish!)
So… be blessed!
Evelyn
Prayer requests:
U$ 150 for the monthly radio program costs
For special gifts in these days in which missionary giving has dropped… so that our income may recover during this 2010!!!
U$ 100 monthly to give out scholarships for our music students. Classes start next week!
For Sebastian, 18, who has started Business College.
PS If you can't see the photos, please check into our web site in one or two days!
Note: Please write out the checks to CMM, and write our names on the envelope (you can donate to us online in the CMM web site).
CMM, PO Box 7705, Charlotte NC 28241
PS To contact us, write directly to our email address
E-mail: jimenezsaint@arnet.com.ar
Web: www.jimenezsaint.com.ar
www.cmmissions.net
our reactivated church web: www.manantialdevida.com.ar
(being put up to date these days)