Hi dearest friends,
Once again I enjoy sitting down at my computer and wondering what is best to write and share with you, far away and yet so close in the Lord!
We have been living times of political debate, as the gay marriage with the possibility of adoption has been presented to Congress, and is halfway to being approved. So as Christians, there have been marches in cities, and public debates on the issue, with things going back and forth. In April, Humberto took this photo, at the march in Buenos Aires in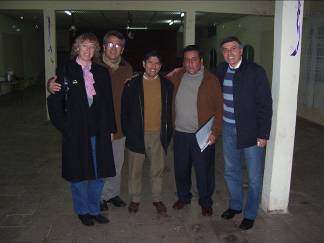 front of Congress, with about 50,000 Christians, where he joined thousands of pastors, leaders and public to speak out on the "Mommy and Daddy" family. In Córdoba we marched with about 5,000 Christians (Evangelicals and Catholics) to support the message "We want Mommy and Daddy" in our city, in June. The debate continues this month in Congress. There was another march organized July 13th in our city, and many cities joined in all over the country. But on July 14th the gay marriage was approved.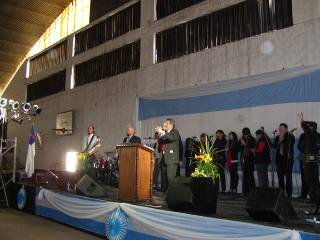 Among other interesting challenges, Humberto and I have been joining the Minister of Social Development of our province in weekly visits to Evangelical churches he is making to needy neighborhoods in our city; in which the local pastor invites the pastors of the area to attend and the minister listens to their projects and needs. The pastors are delighted to receive the visit from a caring government official, along with our friend who as a Christian is a witness in the government and is the connection with the government.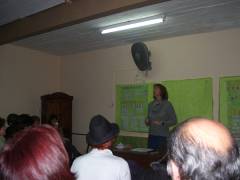 The Minister is at the right, Humberto and I on the left. So… the government will be releasing more funds to provide practical help for these churches, as helping with industrial stoves, pasta factories, musical instruments, and different resources that will extend training to the community of Córdoba, a city of almost 2 million people today. If you remember, 45 churches were blessed last year.
In the following photo, Humberto, behind the pulpit, is coordinating the annual Celebration of the Holy Spirit in one of our local sports clubs, this June, and behind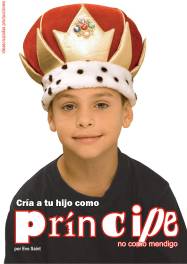 him is our church worship team, (voices and instruments), who was invited to lead the worship in that event, and our son Ari is at Humberto's right, with the bass guitar. We so enjoyed the wonderful music and preaching that day with around 2,000 people from all over the city in this united gathering of churches!
In this last photo, even if it's a bit dark, I'm teaching a course on Christian Counseling at our Bible Institute, Instituto Auxano, with about 40 students.
And here is the cover of my latest booklet, called "Raise your child as a Prince" which will be soon distributed in our city. Our son Ari, as usual, is our designer.


So… be blessed!
Evelyn
Needs:
U$ 500 for printing the booklet. (A second booklet for parents will be produced by August).
U$ 1,000 monthly for our family support
U$ 200 a month to make and upkeep a web site for young people.
VERY IMPORTANT INFORMATION:
The Lord has been leading us to some important changes in our mission life, and as of this month, we are joining Globe Mission International as our mission office in the United States. We are glad Globe has welcomed us, and we will probably be traveling to the States in November for a training seminar, Lord willing. We believe new doors with congregations and donors will be opened for us.
So please note the change:
Note: Please write out the checks to Globe International, and write our names on the envelope (you can donate to us online in the Globe web site).
PO Box 3040, Pensacola, FL 32516-3040 www.gme.org
PS To contact us, write directly to our email address
E-mail: jimenezsaint@arnet.com.ar
Web: www.jimenezsaint.com.ar
our reactivated church web: www.manantialdevida.com.ar