He who would live a life without pain has come to the wrong world. There is no such choice here on this earth. But we can choose, at least to some extent, the kind of pain we want to have. We can choose between creative pain and pointless pain, between holy pain and petty pain, between pain for a purpose and pain that has no purpose.
Jack Riemer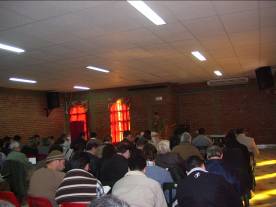 Dearest friends,
We have enjoyed several busy months, in which I have enjoyed re-reading the Watchman Nee book which is why the quote above has so much meaning… we have choices every day to make in our lives, and let's hope to make the best ones each day… knowing that our lives have purpose.
In September Humberto preached to about 70 pastors on pastor's day, challenging them in their spiritual lives. I also read a poem dedicated to pastors, and then we all had a luncheon together.
I was invited to speak at a Conference by CIONA, an international organization th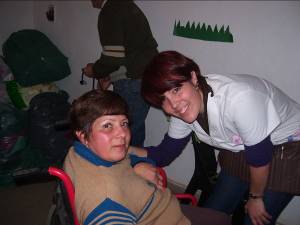 at defends the rights of children, in the nearby city of Villa María. I prepared a power point on the importance of the family; quoting statistics and situations children and adolescents live in Argentina, and spoke to parents and adults present, along with other guest speakers.
We love to visit churches in poor neighbourhoods with a group of "girls" who share their expertise with pastors' wives and women in these places. In this September photo, you can see our daughter, Nathalie, 21, sharing her newly acquired skills of hair dressing and make up. About 30 women and children had their hair cut, faces made up, and other beauty treatments that day. In August we went with about 12 couples to a children's home in our sierras, and also cut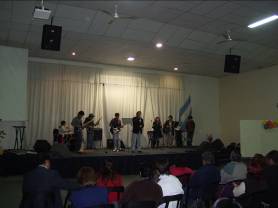 hair, trimmed trees, repaired cars, mowed grass and helped kids with homework. A couple of bakers from our congregation took their industrial mixers and baked pizzas and homemade bread for the home to freeze ahead. (Though we did sample some of their delicious creations!)
Our music school held its first annual audition in front of parents and friends, which is part of the teaching method… to show what the students have learned!
During a week in September, the mayor of our city organized public events in one of the central plazas downtown, to celebrate Student's Week (our spring here), and one of the nights Ari's band played in the Plaza
of la Intendencia, at 11 pm at night! Though Sebastian is not part of the band, that night he was invited to play the guitar. You can see him behind Ari, who is in the front at the right, with his bass guitar (www.pinguinosanto.com.ar).
As we round up our 2010, we are grateful to our friends in the States who have carried us through these months, but we ask the Lord to provide gifts to add to out monthly support. These times are crucial and special to all of us!

May God richly bless you,
Evelyn
Please write out checks to Globe International, and write our names on the envelope, and mail to:
PO Box 3040, Pensacola, FL 32516-3040
You can also donate to us online in the Globe web site at www.gme.org
Note: You might want to consider "recurring gift" options by credit card or ACH (bank debit) as this might simplify the giving for both donor and missionary.
To contact us, write directly to our email address - jimenezsaint@arnet.com.ar
English mission website: www.jimenezsaint.com.ar
Church website: www.manantialdevida.com.ar
My new Spanish blog: tabularasaweb.blogspot.com/ for those who speak Spanish! Or pass it on to those who read Spanish and could use an inspirational blog to read!