December 2011
Dearest friends,
Why are we still surprised that time flies so fast?! Yet we are once again ending a year, and we know that globally the world has been complicated and full of turmoil. This is why I wanted the previous thoughts to challenge us to still keep (once again!) getting up and doing our best each day… that we can start afresh, we can try harder, and we can be closer in our walk with God. And we can definitely renew our service and commitment to our churches and mission organizations.
Humberto and I have been blessed this year: our three children are active in church and also in their jobs and studies, for which we are so grateful as parents.
In 2011…
We travelled 3 weeks to the States in April, meeting our Globe friends, and visiting churches and meeting people who have been so gracious and hospitable!
We have been teaching and ministering to different churches, conferences, pastoral groups, Bible Institute, and preparing written material that can be useful to others.
Almost forty students have finished another year of training in our music school.
We have had several evangelistic activities over the year: street evangelism for children, hospital visits, and helping some small churches with clothing and beauty services. I taught at a large women's Conference which was transmitted by cable tv.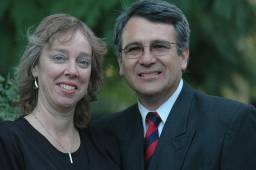 We participated in a nation-wide 40-day prayer commitment, joining more than a million Christians in Argentina!
We have been able to put in a new ceramic floor at our church building, praise the Lord for the resources!
A lot is ahead…
For 2012… We pray for improved finances, and specific projects we have on our hearts. We trust the Lord for the future!
And for you all, thank you for your prayers and care!
Humberto and Evelyn
PS And should you want to donate, you have the information below. Thanks!